Trumann plant reaches major safety milestone
Friday, April 6, 2012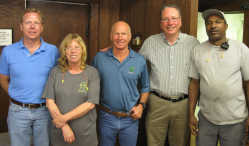 The Trumann plant of Columbia Forest Products, Inc., has achieved a consummate safety milestone: one million man hours without a lost time incident.
"We don't have too many celebrations for one million hours," Chief Executive Officer Brad Thompson said during a plant-wide celebration held on Tuesday, April 3.
Thompson, who took over as CEO in 2008, has successfully guided the company corporate headquarters relocation to Greensboro, N.C., from Portland, Ore., and has achieved great progress towards implementing sustainable forestry.
As CEO, Thompson seemed to have much on his mind and was engrossed in speaking with many of Trumann's employees. However, when asked about Trumann's success with employee safety, Thompson did not hesitate to praise the plant and the role it plays in Columbia Forest Products overall operations.
"The Trumann factory was acquired in 1986 and was our first acquisition in three-ply," Thompson said. "Even through the recent downturn in the economy, the Trumann plant has been profitable. Everyone here obviously works hard and strives daily to ensure a safe and smooth operation."
Ron Tews, Vice-President Midwest Region for Columbia Forest Products, also did not restrain his appreciation for the Trumann facility.
"We have 14 facilities nationwide. But in 14 years, this is the first time, at least to my recollection, that we have celebrated one million hours without lost time," Tews said. "All of our facilities embrace the Behavior Base Safety program, but Trumann is just wonderful at it."
Rick Hammers, Trumann Plant Manager, helped to explain the Behavior Base Safety plan which Columbia Forest Products implemented.
"It is a very, very pro-active approach to safety," Hammers said. "It is a great testament to the effectiveness of Behavior Base Safety. We use it across the whole plant floor and each person looks out for someone else. We average about 1,000 man hours per week and, through this safety plan, everyone is essentially responsible for everyone else's safety.
"Our biggest safety hazard or concern on a day-to-day basis would be injuries to the hands: pinch points, scrapes, bruises and things like that," Hammers continued. "Since we now mainly utilize PureBond, which is a formaldehyde-free adhesive, we really don't have many safety concerns regarding toxic chemicals and things like that."
Brenda Woods, Behavior Base Safety Coordinator for Trumann, noted, "This is all employee owned. Us employees really take ownership of everything going on here, especially safety. We all look out for each other."
Woods illustrated just how sustained one million man hours actually is.
"We have gone four years, two months and 12 days and counting without an accident," she said.
The Trumann plant's last record was 788 days by comparison.
Founded in 1957, Columbia Forest Products, Inc., is North America's largest manufacturer of hardwood plywood and hardwood veneer. The products manufactured by Columbia Forest Products are used in many different applications including kitchen cabinets, architectural millwork and commercial fixtures.
Wood is sourced primarily from Northern Appalachian hardwoods, but also is occasionally imported from sources in Russia, South America, Russia and Asia.