Mock prom wreck staged at EPC to teach students danger of drinking and driving
Friday, April 6, 2012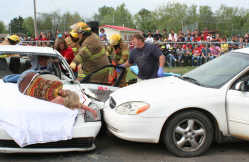 Law enforcement and rescue groups in Poinsett County came together last week to stage a massive production with the aim of teaching EPC high schoolers about the dangers of drinking and driving.
The situation staged for the students was meant to look like a two-car collision involving students who had been drinking after prom. Covered in fake blood, Whitney Walling, Jake Pilgrim, Casey Simmons and Cameron Langley played the four students involved in the wreck.
After an introduction by Sheriff Larry Mills and EPC High School principal Gary Williams, students watched as police, firefighters, and EMTs arrived on the scene. Firefighters even ripped the roof off of one car to get the passenger out.
One of the students played the drunk driver who was put through a sobriety test by State Police and arrested. Two students were put on stretchers and airlifted out on medical helicopters, and the final student, who played the dead victim, was placed in a body bag and put into the back of a hearse while an audio narration of her last thoughts were played.
Afterwards, Sheriff Mills, Principal Williams, Pastor Daniel Nooner, and several of the EMTs spoke with the students about the dangers of drinking or texting and driving and talked about some of their experiences. Both Williams and Mills spoke of people they had known who were killed in drunk driving incidents.
Casey Simmons, who played the dead victim lying on the car hood, said she had fun and hoped others took something away from it.
"Because my dad's a fireman and an EMT, I've seen some stuff, and it's good to play it out for other people so they can see what's like," Casey said.
The mock wreck was targeted at prom season, but Principal Williams hopes the message penetrates beyond that.
"We want to send a message about more than just prom night but day-to-day safety, too," Williams said. "It's an everyday problem. Often teens feel they outrun the laws of nature. Hopefully this will show them the impact drinking and driving can have, not only on them, but on their friends, family and the community. One thing students might not realize is the stress on law enforcement in this kind of situation: it could be a neighbor they're putting in the ambulance. This is a small community. I hope this brings an awareness of all these possible outcomes to students."
Lepanto Police Captain David Layman said they did a mock prom wreck at Marked Tree High School two years ago, but this is the first one to be done at EPC in a long time.
"We'll try to do this yearly and alternate between here and Marked Tree," Layman said. "Hopefully they'll get something out of it."
Riverside Ambulance organized and helped sponsor the event. Other agencies participating included the Poinsett County Sheriff's Office, Arkansas State Police, Lepanto Police, Marked Tree Police, Lepanto Fire Department, Tyronza Fire Department, EPC school and Murphy Funeral Home. Helicopters were provided by Air Evac Lake City and Hospital Wing Memphis. The cars were provided by Unlimited Towing in Harrisburg.
Lepanto Police Chief Chad Henderson said the event took about a year to organize.
"If it impacts one person, it's worth it," Henderson said.