Warriors use late rally to beat Marked Tree
Thursday, April 12, 2012
EPC scored two runs in the bottom of the seventh to overcome the heroics of Marked Tree's Bryant Anderson to pick up a 2A-3 conference win over the Indians 11-10.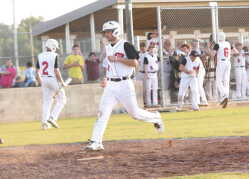 Anderson had given Marked Tree the lead at 10-9 with a grand slam home run in the top of the seventh before EPC's last at bat charge. This was Marked Tree's second straight conference loss having their string of 36 consecutive conference wins stopped by Walnut Ridge Monday.
Marked Tree got on the board first scoring a run in the top of the first inning. Taylor Wages reached first on an EPC error and scored on a RBI double by Brandon Adamson for a 1-0 lead. The Warriors responded with three runs in bottom of the inning. Byron Scales singled with one out and advanced to second on a passed ball. Caleb Harston and Hunter Hinton both drew walks to load the bases. Byron Scales scored on an error before Zach Skipper drove in Harston and pinch runner Trevor McDaniel with a two out single for a 3-1 EPC lead after one inning.
The Warriors padded their lead in the bottom of second with three more runs. Byron Scales started the two out rally with a single. Harston reached via an error and Hinton was hit by a pitch to load the bases. Byron Scales scored when McKenzie Betts reached on the second Marked Tree error of the inning. Cayne Tyler drew a walk to score Hinton to put the score at 6-1 in favor of the Warriors.
Anderson was hit by a pitch to start the top of the third inning and moved to second when Adamson reached on an EPC error. Anderson scored when Dylan Hunt singled to make the score 6-2 EPC. Bubba Phillips walked to load the bases. Thadious Moore grounded out to end the inning for Marked Tree.
The Indians cut the lead to one with a big top half of the fourth inning. Wages led off with a double and scored when Gunner Pitts tripled to left center. Anderson walked before Adamson plated Pitts with a single. Anderson scored on a double play ground out by Jagger McCrary to make the score 6-5.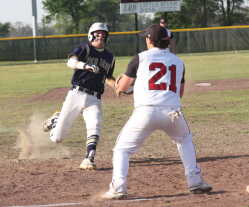 Byron Scales reached on an error to start the bottom of the fifth inning. Hinton was hit for the second time while batting. Trevor McDaniel came on to pinch run for Hinton putting runners on first and second. The runners moved up a base on a passed ball before Betts and Tyler delivered back to back RBI singles to score Byron Scales and Trevor McDaniel respectively. Chandler Smith, pinch running for Betts, scored on a sacrifice fly by Josh Skipper to push the EPC lead to 9-6 after five innings of play.
Josh Skipper relived Betts on the mound to start the top of the seventh inning. Bailey Gilbert worked a walk to start the inning only to be forced out at second base on a fielder's choice grounder off the bat of Moore. Wages reached on an error putting runners on first and second. Pitts was hit by a pitch to load the bases for Marked Tree. Anderson gave Marked Tree the lead at 10-9 with a grand slam home run.
Betts started EPC's rally in the bottom of the seventh with a leadoff single. Trevor McDaniel entered to pinch run for Betts. Tyler drew a walk to put two runners on and tying run in scoring position. Corbin Truelove stepped to plate with two outs and delivered an RBI single to score Trevor McDaniel and Tyler took third on the throw to home. Pitts couldn't handle a pitch from McCrary as Tyler scooted home to give the Warriors the 11-10 come from behind win.
Betts got a no decision going six innings while giving up six runs on seven hits with eight strikeouts and five walks. Skipper picked up the win despite giving up four runs on one hit while walking two.
McCrary took the tough luck loss going 6 2/3 innings giving up 11 runs on nine hits. He gave up five walks and struck out four.
Byron Scales led the way at the plate for the Warriors collecting three hits and scoring three runs. Tyler and Betts both had two hits and a RBI. Zach Skipper had a hit and two RBIs, Truelove had a hit and RBI and Trevor McDaniel scored four runs.
Marked Tree got a big game from Anderson has he had two hits, four RBIs and scored four runs. Adamson had two hits and two RBIs and Wages had a hit and scored three times. Hunt, Pitts and Jagger McCrary had an RBI each.