Tidwell gives tips to Alzheimer's group
Saturday, April 14, 2012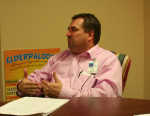 Perry Tidwell, program director for Harris Hospital Senior Care, spoke recently to the Alzheimer's Support Group at Three Rivers Healthcare and Rehabilitation about caring for people who have dementia.
Tidwell said at Harris Hospital Senior Care, staff members try to focus primarily on behavior and finding the root causes of behaviors exhibited by people with dementia. One thing they do is try to stabilize patients' moods.
"We try to find medications to stabilize their moods, but our psychiatrist doesn't like overmedicating," Tidwell said. "Overmedicating is not a solution. It's a last resort."
Another thing the staff tries is looking at behavior modification.
"Our staff tries different techniques, such as redirecting. How you approach someone with dementia makes a big difference. You should be careful, use a soft voice, and remain at arm's length," Tidwell said. "You have to put your mind where they're at and realize it's all in the approach."
He also recommended taking down mirrors in the room of someone who has dementia.
"If I'm 85 years old and have dementia, then in my mind I'm still in my 20s," he said. Seeing the reflection of an older person they don't recognize in the mirror can cause paranoia in someone with dementia because they think there is someone else in the room. Tidwell said there are a lot of cases, especially with men, of people with dementia punching mirrors because of this.
The Alzheimer's Support Group meets at 6:30 p.m. on the first Tuesday of each month at Three Rivers Healthcare and Rehabilitation in Marked Tree. Three Rivers is a nonprofit organization and is part of Arkansas Elder Outreach.
The Three Rivers Support Group partners with the Alzheimer's Association, Central Arkansas Regional Office. Those who want more information may call (501) 265-0027 or visit www.alz.org.