Garbage pick-up is topic at intergovernmental meeting
Saturday, April 14, 2012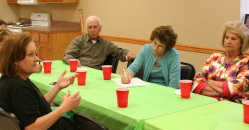 County officials and mayors from all over Poinsett County met this week in Lepanto for a quarterly Intergovernmental Cooperative Council meeting. Many agreed one of the biggest problems cities in Poinsett County have been facing recently is garbage pick-up.
Lepanto Mayor Steve Jernigan, who hosted the meeting, said Delta Environmental misses streets and only picks up commercial garbage once a week instead of twice a week.
"I don't see how they can get out of bankruptcy," Jernigan said. "Our phone rings continuously with complaints, but we're very limited in what we can do. I'm ready to cut ties."
Lepanto cannot end its contract with Delta Environmental until December, however.
Several mayors voiced a concern over long-range problems with garbage and ways the different cities in the county can work together to solve them.
"Long range, we've got to do things together that we're not doing now," Marked Tree Mayor Wayne Nichols said.
Aside from the garbage issue, they also gave updates on what is going on in each city. Tyronza Mayor Marion Bearden said that city has received a bid to build the senior center but noted the bid is too high. The building is being redesigned so bids can be taken again and the building built before the end of the year. She added the city is preparing for the Stars and Stripes Jubilee, which will be May 18-19.
Harrisburg Mayor Randy Mills said the main problem there is uninhabitable dwellings that the city does not have the money to clean up. He said the city has started its facade grant program for the second year in a row and that, overall, he is optimistic for the future.
Marked Tree Mayor Wayne Nichols said that city has decided to pursue completing the railroad spur for Awesome Products, adding he hopes it helps the whole community.
Nichols said a big problem he is seeing is that the price of gas is making it expensive for people to commute.
Trumann Mayor Sheila Walters said no new businesses have moved into town recently, but she noted major work on one of the water towers is complete. This summer, the city will take bids to repair the second water tower. She said Trumann is staying on top of either replacing equipment or keeping equipment in good repair.
County Judge Charles Nix said the county is in the process of trying to close the landfill. He also noted the air conditioning in the courthouse is finally going to be repaired.
Nix commended everyone for wanting to work together in the future to try to solve longterm issues in economic and rural development.
"I'm excited we're all on the same page," he said. "We're going in the right direction. There's not a problem we can't solve."
Nix said there will be an economic and rural development presentation at ASUN-Marked Tree on April 26.
"If we band together as a county, we can do a lot," Mayor Randy Mills said. "It would behoove us to move forward with this county-wide initiative."