Dupree talks Civil War history to MT Rotary
Saturday, April 14, 2012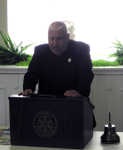 Tommy Dupree, chairman of the Arkansas Civil War Sesquicentennial Commission (ACWSC), spoke Wednesday, April 4, at the Marked Tree Rotary meeting.
Dupree is urging citizens across the state of Arkansas to take notice of the rich Civil War history throughout the state.
"There is a lot of history in this state," Dupree said. "Unfortunately, very, very little has been written about it. We are just now starting to see some new research and publications come out on Civil War-era Arkansas."
Dupree outlined the many goals and duties set forth by the ACWSC, which is commemorating the 150th anniversary of the Civil War.
"Our purpose is to plan, develop and carry-out all kinds of activities related to this history," Dupree said. "We are very active in promoting sites, publications, research and, of course, general interest in Arkansas history. We want to encourage civic, historical, educational, economic and other organizations across the state to participate in activities to expand the understanding and appreciation of the significance of the Civil War."
One of the main goals of the ACWSC, as discussed by Dupree, is the placement of a historical marker in every county in the state.
"We have a few so far, but it is often hard to get some of these things going in some counties. I think, though, that we can get it done," Dupree said. "We also really want to encourage anyone interested in this history to get involved. You don't have to be a reenactor or a professional historian to participate in all of this. In fact, we really want to see a younger crowd take a leading role in taking over some of the custodial roles of this history since that is how it all gets passed down. It is up to everyone."
Most Arkansans know of the Pea Ridge Campaign or the Little Rock Campaign, but what Dupree stressed is that the Civil War was fought one way or another in every part of this state.
"Everywhere I go I get stories about the Civil War. From the Delta to the Ozarks, it really was everywhere, affecting everybody. That is why we have to honor its legacy today."
The Civil War lasted from 1861 until the surrender of Confederate forces at Appomattox Courthouse in 1865. Over 600,000 deaths are generally thought to have occurred, however, recent research shows that number may increase by some 20 percent.
For more information, visit the Arkansas Civil War Sesquicentennial Commission website at: www.arkansascivilwar150.com