Fire destroys 1920's Lepanto building
Saturday, April 14, 2012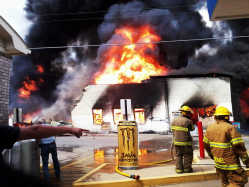 A fire last week in downtown Lepanto destroyed an historic building constructed in the 1920s.
According to Lepanto Police Captain David Layman, the fire was reported at 2:03 p.m. April 4.
"When firefighters arrived, the fire had already broken through the roof and was coming out the windows," Layman said. "Marked Tree and Tyronza Fire Departments were called in for mutual aid. Approximately 25 firemen fought the fire until nearly 8:30 p.m."
Layman said the building belonged to Wayne Brown of Lepanto, who was in the process of opening a business in the structure. The back part of the building was used by Kenneth Wood, who had a mechanic shop. Both Brown and Wood lost everything in the building to the fire.
The blaze also caused damage to some of the surrounding buildings. Layman said The Flower Pot next door sustained some structural and smoke damage, windows overheated and cracked at Turner's Farm and Auto across the street, and Rosie's Flower shop sustained minor structural damage to a storage building.
The cause of the fire is still under investigation.
The building destroyed in the fire was built in the 1920s by EP Burton. In the 1930s, a Ford Dealership was established in the building by the Portis family. They also sold gasoline at the site.
In the 1970s, Eugene Vaughn bought the building and continued to have a Ford Dealership there until he changed it to Poinsett Chrysler Dodge.