Trumann hires new police chief
Saturday, April 14, 2012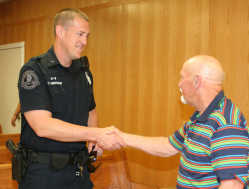 Trumann hires new police chief
By COREY CLAIRDAY
DT News Staff
Chad Henson, an officer with the Jonesboro Police Department, has been hired as Trumann's new police chief.
Former chief Tony Rusher resigned at the end of February after Mayor Sheila Walters ordered an investigation into reports Rusher took prescription medications from the police department evidence room.
Rusher admitted he took the pills, saying he thought they were going to be destroyed anyway. He told the investigator he was hooked on hydrocodone and wanted to seek help for his addiction.
Walters and the Trumann council later fired detective Erik Willbanks, who, during the investigation of Rusher's actions, said he had seen Rusher take drugs from the evidence room on numerous occasions but didn't report it since Rusher was his superior.
The council gave unanimous support to Henson's hiring. The mayor can appoint a new police chief without the council's approval, but Walters said she wanted to show Henson he has the support of the council.
Walters told the council that Trumann has had some rough times lately. "But it's time for the days to look up," she added.
Walters said she interviewed several people for the position but was impressed by one person -- Henson.
Henson said he is in Trumann to bring a new outlook to the city.
"We'll start off quick and start off aggressive," he said. "I'm from a small town, and I've heard the things people say about small towns. We're here to change that. We're going to be a progressive and active police force."
Henson will begin his duties as Trumann police chief on April 16. He will be sworn in at noon that day in the courtroom.
In other business, council member Tom Martin said the city started putting out the new trash bins this week and should finish by Friday. Walters said the city will begin its own residential trash pickup soon.
"We ask that local residents bear with us for the first few days of service because it will not be perfect at first," she said.
Walters also announced the city is being sued by Delta Environmental. She said she does not yet have a court date.
The council accepted Kari Mullins to serve on the Parks and Recreation Board for a three year term. Mullins served on the board for six years and has been off the board for a year. An ordinance states that board members can serve only for six years at a time.
The council also passed a resolution condemning a property at 325 Gum Street owned by Charles Carter. The resolution states the property is run down, has a large hole in the roof and is falling in. The property must be cleaned up, repaired or torn down in 30 days.
The council discussed a mobile food vending trailer on Highway 463 that does not meet city code. Mobile vending units must be manufactured for the process. Based on that ordinance, the council voted not to let the trailer remain.