Warriors use long ball to down 'Cats
Thursday, April 19, 2012
Westside travelled to Trumann this past Tuesday for a key 4A-3 conference match up Trumann. Westside used three home runs and a one-hit pitching performance from Dylan Clark to hand the Wildcats a 7-0 loss.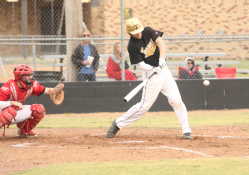 Each team had a hit in their half of the first inning. J.T. Nortier doubled for the Warriors and A.J. Winningham singled for the Wildcats. Trumann's hit would be their only hit of the game.
Lucas Johnston opened the top half the second inning with a solo homerun to give Westside a 1-0 lead. Tyler Hart drew a two-out walk and Drake Cullum followed with a two-run homerun to make the score 3-0. Zach Vinson opened Trumann's half of the second inning with a walk. Vinson was forced out at second on a fielder's choice ground ball from Dylan Dulaney. Jay Ryan Woods and Josh Evans worked back to backs walks to load the bases with two outs. Cameron Jones flied out to center field with the bases loaded to end the inning.
Justin Fuqua opened the third with a single and came around to score when Nortier hit a line shot over the center field fence for a 5-0 Westside lead. Johnston laced a one-out single and advanced to third when the ball got past the right fielder. Josh Baker plated Johnston with a single putting the score at 6-0.
Clark hit his grove in the bottom of the third inning and went on retire the next 15 Trumann batters.
Westside added a run in the top of seventh inning with Clark drawing a walk to start the inning. Vinson replaced Nate Maxwell on the mound. Garrett Shackleford entered as a courtesy runner for Clark and made his way to third via a passed ball and ground out before scoring the final run of the game on a wild pitch.
Maxwell took the loss for Trumann going six innings while giving up seven runs on 10 hits with three walks and eight strikeouts. Vinson pitched the final inning striking out two and walking one.
Clark got the win for Westside going all seven innings. He allowed one hit, walked three and recorded seven strikeouts.
Justin Fuqua collected three hits for the Warriors and scored a run. Nortier had a homerun and double to go with a run scored and two RBIs. Johnston also had a homerun to go with a single, two runs scored and a RBI. Cullum added a homerun, run scored and two RBIs.