Carter throws no hitter against Bay
Thursday, April 19, 2012
Marked Tree's Peyton Carter threw a three inning no-hitter this past Monday as the Lady Indians beat the Bay Lady Yellowjackets 16-0. Carter struck out six of the nine batters she faced.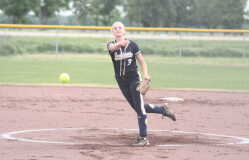 Marked Tree, playing as the visitor due to wet field conditions forcing the game to be moved from Bay, started off fast with eight runs in the first inning. The big hits in the inning were Carter and Holly Smith each having two run triples and Janelle Adams driving in a run with a double.
The Lady Indians scored five more to make the score 13-0 after an inning and a half of play. Poohnu Perry and Adams both had RBI singles in the inning with Perry collecting two stolen bases.
Marked Tree tacked on three more runs in the top of the third to set the final score. Kelsey Pitts had a single and two stolen bases and scored on a Bay error. Paige Blansett and Breanna Francis each scored a run in the inning.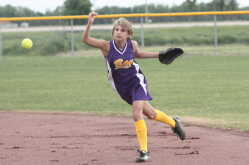 Smith led Marked Tree had three hits, a run scored and two RBIs on the day. Adams collected two hits and two RBIs, Carter had a hit, run scored and two RBIs, Poohnu Perry had a hit, two runs scored and three stolen bases and Pitts scored two runs and stole two bases.
Carter worked all three innings allowing no hits, no runs, no walks and struck out six.