Harris, Bay shut out Weiner
Thursday, April 19, 2012
Bay's Kail Harris had a tremendous game last Friday as Bay hosted Weiner in high school baseball action. Harris struck out 15 batters and allowed only two hits while his three-run homerun ended the game via the run rule as the 'Jackets posted a 12-0 win over the Cardinals.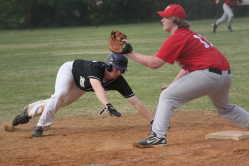 John Stephens got thing started for Bay in the bottom of the first as he led off with a solo homerun to give Bay a quick 1-0 lead. Hunter Percell singled and stole second before scoring on a single by Randy Robbins. Robbins stole second and scored on a single by Jake Martin to extend Bay's lead to 3-0 after one inning of play.
Harris singled to lead off Bay's half of the third inning. Harris stole second and scored when Dylan Rush reached on an error. Rush went to second on the overthrow and to third when Percell reached on an error. Rush scored on a wild pitch to put the score at 5-0. Percell made his way to third via a passed ball and wild pitch and scored on a ground out from Robbins to make the score 6-0 after three innings.
Percell reached on an error with two outs in the bottom of the fifth. He scored on an error by the catcher when he couldn't handle the throw in from Robbins' double. Martin plated Robbins with an RBI single to make the score 9-0 after the fifth inning.
Seth Barnett reached on an error before Stephens singled to put runners on first and third. Harris ended the game when he launched a shot over the left field fenced to make the score 12-0.
Harris went all six innings in gaining the win. He allowed two hits with five walks and 15 strikeouts.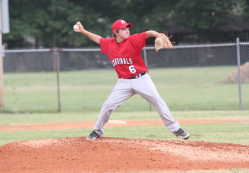 Grant Johnson took the loss working 6 1/3 innings giving up 12 runs on nine hits. He walked none and recorded eight strikeouts.
Stephens, Robbins and Martin all had two hits for Bay. Harris had three RBIs with Martin and Robbins each having two RBIs. Percell scored three runs while Stephens, Robbins and Harris each scored two runs.
Logan Bray and Johnson each had a hit for the Cardinals.