Henson sworn in as new police chief
Friday, April 20, 2012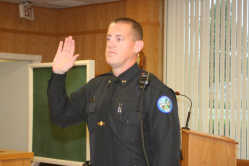 There's a new face in town. Chad Henson took the oath of office Monday as Trumann's new police chief.
Originally from Marmaduke, Henson has 15 years of experience in law enforcement. He has been a narcotics investigator in Blytheville, was chosen to be an air marshal in Chicago on 9/11, worked for the United Nations as a peacekeeper in Kosovo, and, most recently, was a narcotics investigator with the Jonesboro Prowl Unit.
"I wanted to come to Trumann primarily because of Jonathan Schmidt's death," Henson said. "We were good friends. I taught him at the Academy. I wanted to be in a position where I could help an officer so that wouldn't happen again."
As part of that goal, Henson plans to place a heavy emphasis on safety and training.
"My short-term plan is to see what the Trumann Police Department does good and enhance what it does good," Henson said. "I want to acknowledge things they need assistance with and bring in safety, assets and training. The two main things are safety and training for these officers."
Henson hopes to make the Trumann Police Department a progressive and professional department that the city of Trumann can be proud of.
Henson's hire as police chief was unanimously approved by the city council at last week's meeting.
The hire comes nearly two months after former chief Tony Rusher resigned at the end of February after Mayor Sheila Walters ordered an investigation into reports Rusher took prescription medications from the police department evidence room.
Rusher admitted he took the pills, saying he thought they were going to be destroyed anyway. He told the investigator he was hooked on hydrocodone and wanted to seek help for his addiction.
Walters and the Trumann council later fired detective Erik Willbanks, who, during the investigation of Rusher's actions, said he had seen Rusher take drugs from the evidence room on numerous occasions but didn't report it since Rusher was his superior.