Thurston presents turnback funds to Poinsett County
Friday, April 20, 2012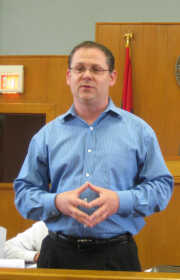 John Thurston, Commissioner of State Lands for Arkansas, presented to Poinsett County officials last week a $127, 007.94 check representing the combined turnback funds collected in Poinsett County in 2011.
These funds result from the redemption and sale of tax delinquent properties certified to the Commissioner of State Lands office.
"Once properties are redeemed by the original owner or sold at public auction, the funds are returned to the county where the property is located one year after the collection date," Thurston said.
Each year, real estate taxes are due to the county collector. If, however, taxes are not paid for one year after the due date, the county is required by law to certify the delinquent properties to the Commissioner of State Lands office for collection. If a delinquent property arrives at the Commissioner's office, staff members work continuously to collect the original taxes due from the landowner. However, if collection is unsuccessful, the property will go up for public auction.
"Property taxes play a vital role in the stability of county revenues," Thurston said. "Public schools and county services depend on real estate tax dollars to aid in funding their programs. Without these funds our communities may miss out on essential programs and growth."
Thurston also officially opened this year's land auction for Poinsett County, held in the county courthouse in Harrisburg. After thanking those in attendance, Thurston commented, "I believe it is very important for this process to occur and to be seen. It is something which the State of Arkansas is working hard on to make more transparent and I am glad to see those of you from Poinsett County here today."
Pulaski County received the largest combined turnback, totaling $4.1 million.