Attorney General McDaniel visits Trumann Lions Club
Friday, April 20, 2012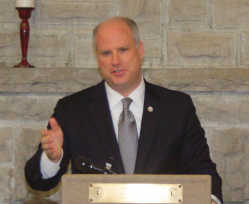 Dustin McDaniel, Attorney General of Arkansas, was the guest speaker Wednesday, April 11, at the Trumann Lions Club meeting. Over 100 guests, including elected officials, law enforcement officers and candidates for the upcoming election, were present to hear him speak.
McDaniel told the crowd it was good to be back home and that Poinsett County should be proud of the elected officials they have. He said the pool of candidates the county has to chose from is good.
McDaniel went on to speak about Poinsett County law enforcement officers and firefighters and the great job they do. He spoke about the loss of Trumann police officer Jonathan Schmidt last year and the effect it had on so many.
McDaniel urged all in attendance to think about those who do these jobs and the good job they are doing. He said he knows what they go through since he served the city of Jonesboro after graduating from law school and before starting his law practice.
"Today is a big day, one I won't forget for a long time," McDaniel said. A $26 billion settlement with the five largest bank and mortgage companies recently was announced. Arkansas is set to receive almost $40 million of that settlement.
McDaniel also spoke about the $1.2 billion settlement handed down in Pulaski County against the pharmaceutical companies Johnson and Johnson and Jansen.
"You cannot lie to us," McDaniel said.
The attorney general presented an award of recognition to Charles Montgomery for his 61 years of service to the Lions Club.
"Mr. Montgomery is a perfect example of how Arkansas benefits from people who give back to their community," he said.