Hydrologist Reba remembers life at South Pole for MT Rotary
Friday, April 20, 2012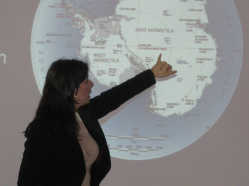 Michele Reba, PhD, PE spoke Wednesday, April 11, at the Marked Tree Rotary meeting. Reba, a Research Hydrologist with the USDA-Agricultural Research Service in Jonesboro, reflected on her stay in Antarctica as an assistant surveyor following her graduation from college.
"Life there was great," said Reba. "It was quieter than any place I've ever been and you totally bond with everyone there."
Reba, whose primary role with the USDA-Agricultural Research Service involves, "preserving water quality and availability for agriculture in the lower Mississippi River basin," worked in Antarctica from 1998-99.
"We all lived in eight foot by five foot rooms. We showered only two times a week and used a can for the bathroom. Of course everyone did this so everyone was on an even playing field," Reba said.
Antarctica, earth's fifth biggest continent, contains approximately 70 percent of earth's fresh water. Ironically, Antarctica is also the driest place on earth and also the least visited with fewer than 200,000 visitors having ever been there.
Reba joined a team of support staff out of Denver, Colo., who would perform a variety of tasks to enable the overall scientific missions being conducted at Amundsen-Scott South Pole Station.
Yes, that South Pole. Reba, who was an assistant surveyor, said she had "one of the most important jobs on the ice. We were monitoring the movement of the the ice over the polar plateau."
The South Pole moves approximately 33 feet per year on an extremely thick bed of ice.
"We did settling and twisting surveys to see the movement of the plateau," Reba said. "It was important to see both how the ice was moving and to recognize and document if anything was happening to the building at the station."
Reba, now a mother of three, was quick to smile when reminiscing about her time at Antarctica.
"Life there was great. I would definitely go back."