Bay falls to Mustangs
Thursday, April 26, 2012
Bay hosted BIC this past Monday in high school baseball action. The Mustangs (11-9) jumped out early only to see Bay (7-17) take the lead before BIC re-took the lead and held on for the win.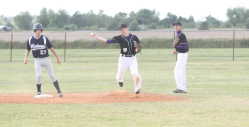 Jeremy Smith led off the game for BIC reaching base on an error. Wes Colbert reached base on a fielder's choice with Smith being forced out at second base. Austin Pike reached on another Bay error before Mark Stone plated both runners with a double to give the Mustangs the lead 2-0 headed to the bottom of the first inning. John Stephens opened things up for Bay with a double. Kail Harris drove Stephens in with a single and took second on the throw to the plate. Hunter Percell was hit by a pitch to put runners on first and second. Randy Robbins scored Harris with an RBI single. Jake Martin and Nate Smith both drew walks with Smith's walk bring in Percell. Jacob Sanders replaced Pike on the mound after the Smith walk. Seth Barnett worked a two out walk to score Robbins and give the 'Jackets a 4-2 lead after one inning of play.
BIC responded with four runs in the top half of the second inning. Logan DeWitt started things off reaching on an error and advancing to second on a wild throw. DeWitt advanced to third when Justin Barnes reached on an error. DeWitt scored on a ground out by Smith and Barnes scored on a double by Colbert. Pike plated Colbert before coming around to score on a double by Stone to make the score 6-4. Bay scored a run in the bottom of the inning when Percell reached on an error, went to second on a wild pitch and scored on a RBI single from Robbins. The score was 6-5 after two innings.
The scored stayed 6-5 until the Mustangs added two runs in the top of the fourth inning. Stone walked before back to back singles from Devon Ballin and Josh McCormick scored Stone. DeWitt drove in Ballin with a single to make the score 8-5. Bay scored a run in their half of the inning as Percell and Dylan Rush both singled with one out in the inning. Percell came in to score on a RBI single from Martin to make the score 8-6.
BIC set the final score in the top of the fifth inning. Pike reached on an error with two outs and scored when Stone doubled to make the score 9-6.
Smith came on to pitch in the bottom of the sixth for BIC. Bay had two runners on base with one out before a BIC double play ended the inning.
Smith finished Bay off with three strikeouts in the bottom of the seventh.
Harris took the loss for Bay going five innings, allowing nine runs on eight hits while issuing four walks and striking out six
Sanders got the win for BIC while Smith earned the save. Sanders pitched 4 2/3 innings giving up two runs on five hits. He walked one and struck out four. Smith allowed no runs on one hit while striking out three and walking none.
Robbins led Bay at the plate with two hits, a run and two RBIs. Harris had a hit, a run and a RBI with Percell collecting a hit and scoring three runs.
BIC was led offensively by Stone's three hits, all doubles, a run and four RBIs. Ballin had three hits and a run, Colbert collected two hits, scored two runs and had a RBI. Pike has a hit, three runs scored and a RBI.