EPC swats Hornets
Thursday, April 26, 2012
EPC hosted Harrisburg in high school baseball action this past Tuesday. The Hornets (6-14) jumped out early only to see the Warriors (15-14) come back and gain a 16-6 victory.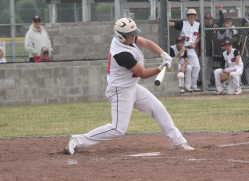 Harrisburg got the board in their half of the first inning as Kyle Vincent reached on an error before stealing second base. Ayson Lamb drove in Vincent with a single for the games' first run. Lamb stole second base before scoring on a two-out single by Fisher Cox to make the score 2-0. EPC got the board in the bottom of the inning when Byron Scales singled and then went to second on a balk by Hornet pitcher Matt Walton. Caleb Harston, who had four hits on the day, plated Scales to make the score 3-1 after one inning.
Kyle Mitchell drew a walk to lead off the top of the second for the Hornets. Mitchell stole second base and came around to score on an Arizona Sharp single making the score 3-1. EPC scored five runs in the bottom of the inning to go up 6-3. Josh Skipper drew a one-out walk before Corbin Truelove and Aaron Scales both worked walks with two outs. Byron Scales grounded to Harrisburg's third baseman Sharp who bobbled the ball allowing Skipper to score and extend the inning. Harston drove in Truelove and Aaron Scales with a single. Harston came home when Hornet catcher Garrett Grubbs over threw third on a pick-off attempt to make the score 6-3 EPC after two innings.
Mitchell opened the inning reaching base on an error by EPC third baseman Josh Skipper. Mitchell stole second and advanced to third on a passed ball. Mitchell scored on a ground out by Sharp making the score 6-4 in favor of the Warriors. EPC answered with two runs in their half of the inning. Aaron Scales got on base via an error before he stole second and went to third on a passed ball. Byron Scales lofted a sacrifice fly to score Aaron Scales. Harston followed with a double and came around to score on a single by Hunter Hinton to make the score 8-4.
Josh Skipper came on to pitch for EPC in the top of the fifth inning and allowed two runs. Grubbs tripled to open the inning. Brayden Honeycutt, courtesy runner for Grubbs, scored on a ground out by Cox. Colin McCrary walked and Drew Price came in as a courtesy runner. Price scored when Sharp reached on an EPC error to make the score 8-6. Sharp relieved Walton in the bottom of the fifth inning for Harrisburg and was greeted by an explosion of runs from the Warriors. Cayne Tyler was hit by a pitch to start the inning. Tyler went to second when Sharp tried to pick him off first and made an errant throw. Josh Skipper singled to put runners on first and third. Zach Newsome drew a walk to load the bases. Truelove laced a two-run single scoring Tyler and courtesy runner Seth Lacy. Aaron Scales reached on an error before Harston delivered a two-run singled to score courtesy runner Chandler Smith and Truelove making the score 12-6 EPC. Hinton doubled to score Aaron Scales and Harston before Tyler and Josh Skipper each had back to back RBI singles. Tyler's hit scored courtesy runner Trevor McDaniel and Skipper's hit scored Tyler who had stolen second base. Tyler's run made the score 16-6 ending the game via the run rule.
Austin Price got the win for EPC going four innings. He gave up four runs on four hits while striking out three and walking three. Skipper pitched one inning giving up two runs on one hit as he walked two and struck out one.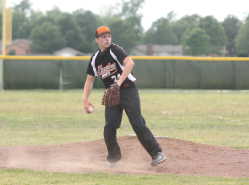 Walton took the loss for Harrisburg giving up eight runs on five hits. Walton walked three and had four strikeouts. Sharp pitched 2/3 of an inning giving up seven runs on six hits as he struck out one and walked one. Martin pitched one third of an inning giving up two hits and one run.
Harston led EPC at the plate with four hits, three runs and four RBIs. Hinton added two hits and three RBIs as Trulove had a hit, two runs and two RBIs. Aaron Scales scored three runs.
Harrisburg was led offensively by Sharp who had a hit and two RBIs. Mitchell scored two runs and stole two bases. Lamb had a hit, run and RBI to go along with two steals.