Judge Nix speaks to Trumann Lions
Friday, April 27, 2012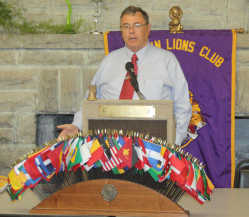 Poinsett County Judge Charles Nix spoke Wednesday, April 18, to the Trumann Lions Club about things that are going on in the county.
Nix opened by thanking everyone who asked about him during his recent health problems.
"I've had so many come up and say they have prayed for me or have put me on their prayer list at church," he said. "Where would we be without our churches?"
Nix spoke about the staff of officials in Poinsett County. He noted there are only 75 people in the state who do the jobs they do. The county has a positive sum in the reserve account thanks to the hard work of these officials, he said.
The landfill in Harrisburg is in the process of being closed, Nix said. Only the Class 4 landfill remains, but it has not been used in five or six years so the Environmental Protection Agency (EPA) has told the county to get rid of the potential hazard it may cause.
Nix said air conditioning at the courthouse soon will be repaired. The county received two bids for the project, he noted.
"If you have a chance to go by the courthouse, notice the new landscaping that was recently done," he said. "Fonda Condra and the Garden Club took care of the landscaping."
Nix said lights around the courthouse have been repaired, adding the lights give the courthouse a different look when they come on in the evening.
Nix spoke briefly about the things over which he has control, including the quorum court, the dispensation of funds, the county road system, county properties and administration of all laws and ordinances in the county. He also hires all county employees, Nix said.
He mentioned several grants the county has received over the last three years that were used for the fire departments, police departments and sheriff's office. The county also has received a grant to make the courthouse handicap accessible, he said, in order to comply with the American Disabilities Act.
Nix said Poinsett County is one of three counties selected to participate in an Economic Development Initiative program.
"I would like to see this progress and set things in place for future generations to follow," he said.
Nix closed by noting county crews are continually at work on roads and bridges in the county where needed.
"We are working hard to repair or replace the bridges," he said.