Mills highlights attributes of sheriff's department in talk to Marked Tree Rotary
Friday, April 27, 2012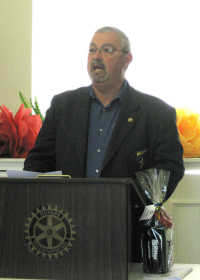 Poinsett County Sheriff Larry Mills detailed key achievements in both his career and the sheriff's department in a talk Wednesday, April 18, to the Marked Tree Rotary Club.
"When I say I am experienced, I mean I am experienced," said Mills, who is in his 16th year as sheriff and his 31st year in law enforcement. "I started my career in law enforcement as a reserve officer in Meridian, Miss., and in 1981,when I got out of the Navy, I came back to Poinsett County and got a job here as a jailer.
"When I eventually became sheriff, my first week we had six drownings here," he continued. "That unfortunate time resulted in our development of the search and rescue team. We have boats, planes, horses and all kinds of resources."
Mills, who is being challenged this year for the position by Kevin "Big Daddy" Caldwell, did not hesitate to focus on the department's many achievements.
"In the 16 years I've been your sheriff, we've gained a lot of experience," Mills said.
Formerly the chief of police at Harrisburg, his native town, Mills also outlined many of the department's recent advancements.
"We initiated the DARE (Drug Awareness Resistance Education) program in 1996 and it has been very successful. We've also made changes within the dispatch system to handle calls from the hearing impaired or people with autism and things like that. It is important for responding officers to know before they arrive if they will be handling a call of that nature.
"Our 9-1-1 system is technologically current," he added. "It is as good a system as you could have."
Mills also summarized many of the department's priorities and his means for implementing his success as sheriff if elected to another term.
"Drugs and thieves were the top priority in 1996 when I became sheriff and they are the same priorities now," Mills said. "We've made dramatic progress with these problems with aggressive law enforcement and maintaining good working partnerships with other agencies like the State Police, DEA (Drug Enforcement Agency) and local police."
Mills acknowledged that drug manufacturing in Poinsett County is down.
"The drug problem is still there, but it isn't as bad as it was," he said. "A lot of the people who were cooking it are gone now, so that eases up much of it. Many places here in Arkansas have made it hard to get the ingredients to make the drugs, so many of the drug makers are either locked away or have since cleaned-up.
"I'm a no-nonsense kind of guy," Mills added. 'I've always represented Poinsett County in a positive and professional manner and I've always kept my nose clean and my head up."
Mills enjoys riding motorcycles and building acoustic guitars in his spare time. He is a member of numerous state and local organizations, including past president of the Arkansas Sheriffs' Association.
Looking briefly to the future of crime and violence, he said, "I don't know how you fix the problem, because I don't know how you fix morals, ethics and character. I won't lower our standards."
Mills vowed to keep fighting for Poinsett County.