Marked Tree accepts bid on rail spur
Friday, April 27, 2012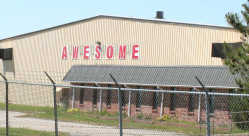 In a special meeting Monday, the Marked Tree City Council passed two resolutions regarding the future railroad spur for the Awesome Products facility.
The council approved the terms of an agreement which joins the City of Marked Tree and Awesome Products in a plan with Burlington Northern and Santa Fe Railway regarding a rail spur that will run from the BNSF mainline to the Awesome Products facility in Marked Tree.
According to the term sheet, the city will maintain and replace the portion of the rail spur running from the mainline to the Awesome property line, and Awesome will maintain and replace the section of the rail spur on their property.
At the last regular meeting of the city council, aldermen approved borrowing $77,0000 from the Industrial Fund, $60,000 from the 1996 Sales Tax Reserve, and $20,000 from the Capital Building Fund to pay what the city owes on construction of the rail spur.
Awesome Products will pay the city a railcar fee for each railcar delivered to and unloaded at the facility. Thirty percent of the railcar fees will be placed in escrow to be used to fund track maintenance and replacement, and the balance will go toward paying back the funds the city borrowed money out of in the above mentioned accounts.
"It will take a while for this money to get back," Mayor Wayne Nichols said. "It could take 20 years."
After discussing the terms, the council passed a resolution authorizing the mayor to enter into a contract with Awesome Products over use of the rail spur with a vote of 4-2.
The council also passed a resolution authorizing the mayor and city clerk to accept a bid from Richard Baughn Construction, Inc., to construct the rail spur with a vote of 4-2. The total cost of the rail spur will be $1,194, 602.21.
"I don't know whether this is good or bad," Mayor Nichols said. "You take a chance and hope it works out. We need the jobs. There's always risk in anything you do. I hope some of our anxiety will be resolved."