Bobcats rip EPC in district semi-finals
Thursday, May 3, 2012
The EPC Warriors and Walnut Ridge Bobcats met in the semi-finals of the Class 2A-3 district baseball tournament this past Saturday in Marked Tree. The Bobcats jumped out early and never looked back as they posted a 11-0 victory.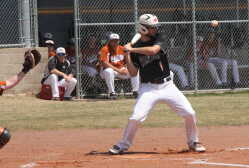 Eric Wilcoxson opened the game for Walnut Ridge with a triple and came in to score on a sacrifice fly by Cole Hicks for a 1-0 Bobcats lead. Zach Crisler bunted for a base hit before Hunter Flippo took a pitch and sent it over the left field fence for a two-run home run giving Walnut Ridge (25-5) a 3-0 lead after an inning of play.
EPC got back to back singles from Hunter Hinton and McKenzie Butts to open the top of the second. Courtesy runner Trevor McDaniel was picked off second on a throw from the catcher and Cayne Tyler hit into an inning ending double play to stop the rally.
The Bobcats added four more runs in the bottom of the second with the big hit coming from Hicks has he cleared the bases with a three-run triple. Crisler plated Hicks with a single to make the score 7-0 after two innings.
Walnut Ridge scored their final runs in the bottom of the fourth. Flippo drove in a run with a sacrifice fly, Teague Phillips had a two-run double and Rowdy Ditto had a RBI single to set the final score.
Harston took the loss for EPC giving up 11 runs on 11 hits while striking out five and walking three.
Range Weeks got the win for Walnut Ridge allowing no runs on five hits as he walked none and struck out five.
Josh Skipper collected two hits for EPC on the day. Hinton, Butts and Byron Scales all had a hit.
Hicks led the Bobcats at the plate with a hit, two runs and four RBIs. Flippo had a hit, a run and three RBIs.