Candidate for sheriff speaks to MT Rotary
Thursday, May 3, 2012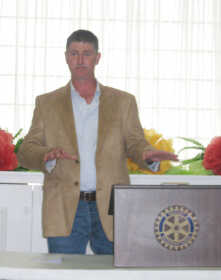 Kevin "Big Daddy" Caldwell, a candidate for Poinsett County Sheriff, spoke Wednesday, April 25, to the Marked Tree Rotary Club.
"I just want to be y'all's sheriff because I believe I am a strong enough man and a personable enough man," he said.
A Harrisburg native, Caldwell summarized his ambitions if elected sheriff.
"I have nothing against the man who is sheriff now," he said. "I think he is a great man and has done a great job, but I think we need to pay more attention to our children and younger folks which is something this sheriff isn't doing.
"You have a few people here [Poinsett County], I don't want to name names, but they are in a position to help people and they just turn their backs on them."
Caldwell explained that his nickname, "Big Daddy," stems from a time when he was a wrestler in high school.
"I don't drink, I don't smoke. I've worked narcotics and have put people away. I believe I am a strong enough man to change the problems here," Caldwell said. "My first priority, if elected, would be immediately following my swearing-in ceremony I would sit there with a whole bunch of little cups on a desk and make everyone at the Sheriff's Department urinate in them.
"Trumann gave everyone around here a black eye and it is crucial that we know who to trust."
Elaborating on his plans, Caldwell added, "I would divide the county into quadrants for the deputies to patrol, and each deputy would stay in his assigned quadrant."
Caldwell said he recognizes that the crime in Poinsett County is "opportunistic" and follows no set pattern.
"With my plan, there would be no set patterns to the deputy's movements within his quadrant. Criminals won't be able to discern any pattern with our patrols.
"There is not an officer in Poinsett County I don't know," Caldwell said, identifying a need to maintain positive working relationships with regional law enforcement agencies. "Anybody can wear a star on their chest. It is a matter of what they do with that authority."
A Desert Storm veteran, Caldwell is also a proud family man.
"My goals are the same as yours: I just want to get home to my wife and kids every day and make a better community for them.
"I want to see more people here graduate college and become productive members of society, but there are also many things out there, ugly things, which we can never fix, and if God wants me to become sheriff, I will do my best for you."