New police chief speaks to Rotary
Thursday, May 3, 2012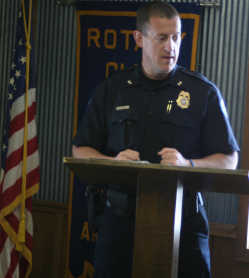 Trumann Police Chief Chad Henson told the Trumann Rotary Club last week that he is here to bring change to the community.
"We need change. I'll bring it," Henson said. "I'm not here to make friends. I'm here to gain respect from the officers and the public."
Henson said that when he started as police chief, he met with all the officers and their wives to talk to them about four things. The first was the perception of distrust between the police and the public. He said he wants to combat this barrier by being as open with the community as he can. "That barrier was knocked down the day I was sworn in," he said.
He is initiating an open door policy and welcomes anyone to come in and talk to him about their concerns. He also wants to get his officers more professional uniforms, new equipment and vests, and back-up weapons.
"We're going to change their uniforms and change the way they think," he said. To help change the way officers think, Henson wants to have ongoing training for all officers since some of them have had only basic academy training and nothing else.
Secondly, Chief Henson said he will not accept laziness from his officers.
"The public wants us to be active, and they want to see the drug problem solved," he said. "We will be progressive and active, not reactive. The drug dealers need to feel that heat and get out. Trumann has been held hostage by these people for too long."
Third, he said he wants the public to understand why cops think and act the way they do.
"We live in a 90-10 world. That means 90 percent of people are good and 10 percent are bad, but 90 percent of a police officer's day is spent dealing with that 10 percent that are bad," he said.
The fourth thing he wanted to talk about was the reason he took the job. Chief Henson said he never wanted to see what happened to Jonathan Schmidt, who was shot and killed during a traffic stop last year, happen to anyone else.
"I knew him. He was one of the best. As long as I'm here, that will not happen again," he said. Part of preventing such a tragedy from happening again will involve ongoing training and new equipment.
"I'm not saying what happened to Jonathan Schmidt could have been prevented, but I will give 110 percent and I expect 110 percent from my officers. We need the public's help and their support. Safety is our number one concern," he said.
Chief Henson has been an instructor for 15 years and said he has taught at least every rookie in Northeast Arkansas. He started his career in Blytheville, was an air marshal following 9/11, and was a peacekeeper for two years in Kosovo before joining the Prowl Unit in Jonesboro.
"The Prowl Unit in Jonesboro is a zero tolerance unit," he said. Chief Henson added that he will bring that same attitude to combating drug dealers in Trumann.
"That was one good thing I learned in Jonesboro. We're going to be aggressive and have a zero tolerance policy. I know it will work."