Sheriff's Department acquires HMMWV
Thursday, May 3, 2012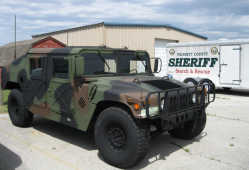 In April, the Poinsett County Sheriff's Department welcomed a new crime fighter to the command: a military-issue HMMWV (high mobility multi-purpose wheeled vehicle), otherwise known as a Humvee or Hummer.
Manufactured by AM General for the U.S. Military, the department's HMMWV M1025 model comes standard with armor plating, a weapons mount and can climb 60 percent slopes in addition to fording hard-bottom water up to 30 inches deep without a deep water fording kit.
Purchased from the federal surplus in Little Rock and driven to Poinsett County, the new HMMWV is sure to be a valued asset to the department.
"We got it at a deeply discounted rate," Sheriff Larry Mills said. "Normally you would pay three percent of the used value, but we got it for much cheaper than that."
The HMMWV, in addition to being battle-ready, is completely refurbished.
"The folks down at the (federal) surplus really take care of these things and we got a superb vehicle," Mills said. "It was worked over from top to bottom, is very clean and clean running."
Once purchased, the vehicle can remain with the department for as long as it is of use, however, there is a stipulation to buying from the federal surplus program.
"It is our vehicle, but if it needs to go back for whatever reason, like if it were totaled in a wreck, it has to go back to the program."
Sheriff Mills explained further, "You can buy just about anything from the surplus program, from office desks to chairs, tools and, of course, military vehicles and weapons. But once the military-grade assets get out in the open, the government wants to ensure it all stays in the appropriate hands, so we are kind of bound in that respect."
The HMMWV looks like you would expect it to: camouflage and bare-bones. It looks exceedingly uncomfortable with little room for passengers -- an ironic twist when compared to the large size. Yet Sheriff Mills is optimistic when looking into the vehicle's future with the department.
"We don't have any plans on changing it. It is like a Jeep in that most of the parts like the doors and the roof are all interchangeable," Mills said. "We are going to use it for search and rescue, marijuana and meth lab eradication and special operations if need be. We also will probably use it for parades and such. This vehicle is great. It will go anywhere and that is something that is crucial to a department like ours in topography like this."