Families, Inc. is topic for Trumann Rotary
Friday, May 11, 2012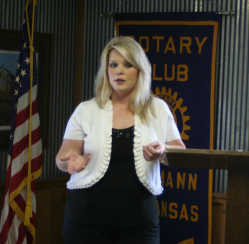 Dana Watson, licensed psychologist and supervisor of Families, Inc. Counseling Services in Trumann, told the Trumann Rotary Club last week that one of the ways to get good results in counseling children is to include the whole family.
"One thing that sets us apart is that we work so much with with children's families," Watson said. "We stress including the whole family in therapy."
Families, Inc., is a private counseling agency, founded in 2000 by Joy and the late Tom Davis. The agency provides its services in the home or school.
"A lot of clients have trouble coming in on a weekly basis," Watson said. "They (Joy and Tom Davis) got tired of sitting in the office and came up with a program to go into homes to better serve our clients."
The Trumann clinic, one of 10 in Northeast and North Central Arkansas, was opened in 2007. Watson said that 70 percent of the work they do involves counseling school children with behavioral and emotional problems.
"In Marked Tree we have professionals in the schools to help with behavior problems. Their staff is covered up, so we do the behavior problems," Watson said.
In addition to dealing with behavior problems, the agency also does training in schools and nursing homes to give staff the tools they need to deal with behavior problems. Families, Inc., also handles adult clients and offers therapeutic services for depression, anxiety, marriage problems, schizophrenia and alcohol and drug problems, though they offer therapy for substance abuse only if it is linked with another problem.
"The only thing we don't do is strictly substance abuse," Watson said.
Watson said anybody can make a referral. She noted the agency receives referrals from courts, churches, schools and other agencies.
"We have done more and more marital therapy," she said. "I think that's because knowledge of its availability has increased."
Watson started working at the Trumann Families, Inc., clinic in 2011 and said it has really grown.
"It's a nice practice. I feel comfortable with it because we stress quality over quantity," she said. "We keep case loads low for quality assurance."