Marked Tree Drama Club to perform first play
Friday, May 11, 2012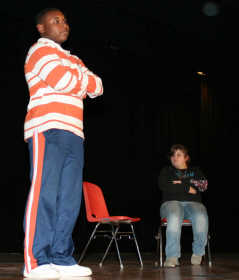 Students at Marked Tree High School ran through their final rehearsals of the play "Voices from the High School" this week. The play is the first production of the newly-formed Marked Tree Drama Club and will be performed this weekend.
The Drama Club was started by Liz Smith, who teaches eighth grade math and ninth grade algebra, and Liz Newton, who teaches seventh and eighth grade social studies, U.S. history, and AP U.S. Hhstory.
Prior to the start of the Drama Club, students' only acting opportunity was in the yearly Christmas play. Smith said that both she and Newton were involved in drama in high school and college and wanted to bring that love of theatre to MTHS.
"We're both first year teachers," Smith said, "and the administration asked if we wanted to start any new clubs. One thing students and adminstration really wanted was a drama club. It's a good outlet for kids who are not connecting with athletics and want a chance to express themselves."
Sasha Moore, a junior, said she joined the Drama Club because she wants to be an actress. "I want to go into theatre arts," she said. "I feel like if I have this as a source, it will be better for me. And it's awesome."
"Doing all this crazy stuff is letting out my true inner actress," eighth grader Kayli Walker said. "I love doing this kind of thing."
They both agreed the hardest part is memorizing the lines. "It's fun, but you get really nervous," Moore said. "You don't want to throw the play off."
"The only scary part is thinking about if you get up there and forget a line," Walker said.
"It takes a bunch of special people to want to do this," said Meredith Kinney, eighth grade. All three girls agree that "Drama Club is awesome."
"Voices from the High School" was written by Peter Dee and features a series of vignettes about high school life. When trying to decide on a play to do, Smith called her old drama teacher, who suggested this one. Smith said the play offers a lot of variety and works well for the students because the cast is very diverse.
Smith said the most challenging aspects of co-directing the students have been "teaching personal responsibilty and helping them learn that we're all producing this product, so that if one person is slacking it affects the whole play."
"It's been fun to meet kids outside my own classroom," Smith said. "With my own students, the most rewarding part has been seeing them come out of their shells. We bonded as a group. They're really excited for Friday."
Showtimes for the play will be at 7 p.m. Friday, May 11, and 2 p.m. Saturday, May 12, in the Marked Tree High School Auditorium. Admission is $3 for adults and $2 for students.