Jeanne Fleming honored for MT teaching career
Friday, May 11, 2012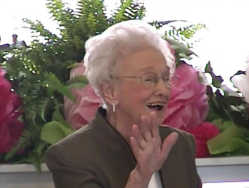 Jeanne Fleming has touched many lives throughout her teaching career and as a member of the Marked Tree community. On May 5, family, friends, former students and members of the community packed the Fellowship Hall of First United Methodist Church for a luncheon in her honor sponsored by the Marked Tree Historical Society.
In recognition of her service to the community, her service as a teacher at Marked Tree School and as a Sunday School Teacher at First United Methodist Church, Mayor Wayne Nichols proclaimed May 5 to be Jeanne Fleming Day.
Jeanne grew up in Marked Tree and only lived outside the city twice: first when she went to college at Arkansas State Teachers College (now University of Central Arkansas), where she majored in home economics, and after she married Buddy Fleming. They lived in Houston while he waited to be deployed overseas during World War II. After Buddy was deployed, Jeanne came back to Marked Tree, where she has lived in the same house for 65 years, and took her first job as a teacher.
Annabelle Akers, Jeanne's daughter, was one of the speakers at the luncheon. She said Jeanne "was part of the generation, The Greatest Generation, who did whatever needed to be done. For 20-something years she taught whatever needed to be taught before she got a chance to teach home economics."
In addition to teaching science, history, English and everything but physical education, Jeanne sponsored the Future Homemakers of America, the Future Teachers of America and managed the Drama Festival.
"She did a great job and took everything seriously in her job," Akers said.
Like a lot of people in Marked Tree, Akers had Jeanne as a teacher.
"Being taught by my mother was wonderful," she said, "but teaching with my mother was better. I didn't learn how to be a teacher in college. I learned how to be a teacher by teaching with my mother. The biggest thing she told me was if you take up a note in class, don't read it. She taught me not to react to everything I heard, and that got me through a lot of situations.
"She loved her family, loved her church, loved her friends and her students," Akers continued. "She had a rule: no talking about school at dinner because it would leave daddy out. She found a way to be just a mother and just a wife at home. She learned how to balance everything."
Gail Nichols had Jeanne as her fifth grade teacher. She said she was scared entering the fifth grade but that it ended up being the best year of school for her.
"I got one of the best educations you can get, and one of the reasons is this lady here," Nichols said. "She was an all around good teacher. She was helpful, no matter how thick-headed you were."
Tony Huddleston, a former student and lifelong friend of the family who came down from Chicago for the occasion, related the story about a hummingbird trying to put out a forest fire but flying back and forth to the river to get water to bring back in its beak. When the other animals tell the bird that it can't hope to put out the fire, the hummingbird says it's doing the best it can.
"Mrs. Fleming is that to me," he said. "She's that little hummingbird doing the best she can. She's a daughter to this community. She's a light. She was compassionate and a very humble woman, slow to anger and quick to forgive. She never hovered over us, but she watched over us. Mrs. Fleming was always there."
Woody Cummins, formerly of Marked Tree and of the Arkansas State Department of Education, said of Jeanne, "She did a lot of common tasks uncommonly well."
Jeanne Fleming taught for 38 years between 1946 and 1987, taking off for a few years when her children were small.
"I taught a little bit of everything," she said. "It was after the war, and they were having trouble getting teachers. I loved it. I enjoyed my work. This has just been marvelous. It's so good to have my family here and so many of you. That's so wonderful."
The luncheon closed with everyone singing a rendition of "You are Our Sunshine" in Jeanne's honor, led by Mistress of Ceremonies Marolyn Robbins-Guarr, who expressed thanks for all who attended and to the volunteer hostesses who served the meal catered by the Methodist Chicks.