Lovell talks about finishing final term in House of Representatives
Friday, May 18, 2012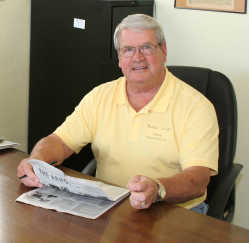 Rep. Buddy Lovell (D-56) is serving his final term after nearly six years in the House of Representatives. In reflecting on some of things he's accomplished in the House, Lovell said one of the joys of serving in the House has been helping people in need, though he wishes the term limits were longer.
"Although I believe in term limits, I think they're too short. About when you get to the point where you know how to navigate the system, you're out," he said.
Lovell said one of the most important things he's done for the county during his time in the House has been distributing General Improvement Funds. "A lot of that I've put to the fire departments in Poinsett County," he said. He's also given GIF money to all the senior centers, libraries, museums and food banks in Poinsett County.
"I didn't do it by myself," Lovell said, "but we've cut the state grocery tax to a point where we're saving $245 million a year for Arkansans. We raised the minimum income for state income tax. That helps elderly people who need it most."
In addition to this, Lovell said the legislature raised the price on the used cars tax from $2,500 to $4,000 so that people buying used cars for under $4,000 don't have to pay sales tax. "It's designed to help low income people," he said. The legislature also cut the state sales tax on utilities used for manufacturing in an effort to increase jobs.
"One of the most significant things is that we are one of four states that don't have a deficit. We have a balanced budget amendment, and since I've been in the House we have created a surplus each year. I don't take credit for that, but I do take partial credit. We've limited spending, and the state should be proud. I read recently that California is $16 billion in debt," he said.
Lovell said his big disappointment was being unable to stop the consolidation of Weiner School District. He tried to pass legislation that would have saved the district but "there were too many urban people on the committees who don't see the need and benefit of small town schools," he said. "I hate that we could not get that done. I tried as hard as I knew how."
Lovell is retired from E. Ritter Communications and the military and said he will miss serving in the House. "Some of the joys include being able to help people," he said. "It's really rewarding to me to help someone who's really in need. If you learn to navigate the system and get to the people in charge, you can get them help. I'll miss it."
Lovell is not sure what he will do next but said he's not the type to sit around doing nothing. His future might include some type of volunteer work or lobbying work. "I'm not sure," Lovell said. "I've worked since I was 17 years old. It may be time to relax and go on a real vacation and enjoy yard work. I'll stay busy at something."