Lions get update on NEA Baptist Hospital
Friday, May 18, 2012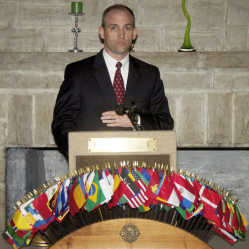 Concerning the new Jonesboro hospital which is scheduled to open in June, 2013, Dr. Paul Betts, CEO of NEA Baptist, was excited to share with the Trumann Lions Club the progress being made and what to expect of the final outcome of the project.
Betts said he heads a unique organization, which is part of the NEA Baptist Health system. This consists of the NEA Baptist Clinic, a 100-physician multi-specialty group, and the NEA Baptist Memorial Hospital. These two institutions are totally integrated to help take of the patients, Betts said.
The original hospital was built in 1912 when the three Southern Baptist Conventions in Arkansas, Mississippi and Tennessee built a 150-bed facility in Memphis. The cost of that hospital was $235,000. "The hospital was founded on the mission of the three-fold ministry of Christ -- to heal, to preach and to teach, and it's the same mission we work under today," Betts said.
Today, there are 14 hospitals with more than 3,500 physicians. The hospitals range from Jonesboro to Union City, Tenn., to Columbus, Miss.
Dr. Ray Hall founded the NEA Clinic in 1977. His vision was to have a place where a patient could have all procedures done. In 2010, the clinic partnered with the Baptist organization, thus changing the name to NEA Baptist Clinic.
The clinic in Jonesboro has 100 physicians on staff who specialize in 35 different areas. They see 1,400 patients a day.
The future is to have the clinic and the hospital at one site. The six-story, earthquake-resistant hospital being built now is the largest construction project in the state. The new hospital will open up 400 new jobs, the clinic will create 130 new employment opportunities and 35 new doctors will be hired over the next two years. A 34,000 square-foot cancer center is being built which will house Hope Circle. Hope Circle is a support group for cancer patients that helps provides needs of the patients.
Dr. Betts fielded questions afterwards and one question was about the traffic flow, especially down Stadium Drive. Dr. Betts said a study has been funded that has the possibility of a eastern bypass being built in the future. The bypass would begin about where Nestle Road is located and loop around Jonesboro and come out at the Farville curve.