Trumann teachers receive MacBooks
Friday, May 18, 2012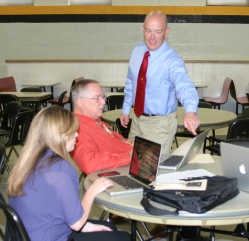 Teachers in Trumann Schools each received a MacBook Pro last week as part of the district's 1:1 initiative to place an Apple computer in the hands of every teacher and student.
Assistant superintendent David Rutledge said the technology is being rolled out for teachers now so they will have the chance to familiarize themselves with the MacBooks over the summer and be better able to integrate the technology into their classrooms when school resumes this fall.
Apple also will hold three days of professional development this summer for teachers to make sure they learn all they need to learn. Different training classes will be offered to meet the different skill levels of teachers.
"We want to meet them where they are," Superintendent Myra Graham said. "We want to model the type of instruction that we plan to provide for students. When you already know how to do something, you do not need basic training. You need training to learn more. Those at the basic level do not need something more complicated until after they learn the basics."
"This will be a powerful tool for teachers," Rutledge said. "We're very excited about our 1:1 initiative, but we're more excited about what these tools will do as far as educating students. I think this will change education significantly. We will move toward a great deal more technology in class and more project-based learning. Students will be using technology to solve real world problems."
The purpose of allowing students to use technology that they are already familiar with outside of school to solve real world problems is to increase their engagement in the classroom and help them see the relevance of the skills they're learning.
"This is how students learn these days. They have to power down to come to school," Rutledge said.
In addition to the computers, teachers also received carrying cases for them with Trumann Wildcats printed on the side. Short videos are available on the school website to help teachers familiarize themselves with the technology. Rutledge encouraged teachers to use and play with the MacBooks over the summer and not to be afraid of them.
"The worst thing you can do is take it home and not use it," he said.
"I'm excited about it," said Raven Byard, art teacher. "I'm excited for the kids. I hope it gets them motivated."
"I can't wait," said Christal Craft, sixth grade math teacher. "The kids are really excited about getting theirs and about me getting mine. They're excited to get started on a new way of learning."
"We are extremely excited to roll out these tools for learning," Graham said. "Nothing is going to take the place of our teachers and their instruction. It is just that the staff will have cool tools to use as they teach and motivate our kids in their learning. We want the students at Trumann to be college and career ready. This new initiative will help our students reach those goals."