Wildcats battle to tie in spring scrimmage
Thursday, May 24, 2012
The Trumann Wildcats split up teams with one team donning the white jersey and the other team the black jersey for a scrimmage game to wind down spring drills last Thursday evening at Wildcat Field.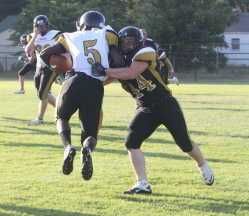 Coach Greg White said he had 32 players participate in spring drills. He said that number should be around 35 when fall practice starts.
The white team, led by A.J. Winningham at quarterback, jumped out to an early lead. Cameron Wright had some big runs as did Willie Moore. Cain White looked good splitting out from his tight end position to haul in a couple passes on the night.
The black team never gave up and fought their way back to take the lead late in the game. Justin Liles led the black team at quarterback. Josh Evans and Tevin Bradley ran the ball hard on the night. Bradley caught a couple passes out of the backfield and turned them into good gains.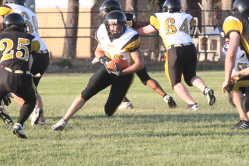 The white team tied the game with time running down in the final quarter only to see the black defense rise up and stop the white team on the two-point try as the teams battled to a 24-24 tie.
After the game, White was happy with the outcome. "This was the best year of spring practice we've had since we started doing spring drills." "We played hard and got after each other tonight, getting back to that physical Trumann football." White added, "We'll heal up now, get in shape over the summer and get ready for fall camp."