Foundation of Arts is topic for Trumann Rotary
Friday, May 25, 2012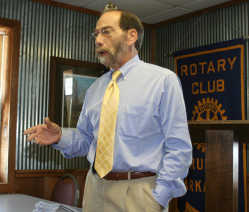 Karl Hollander, executive director for The Foundation of Arts in Jonesboro, told the Trumann Rotary Club recently that part of the reason he is so interested in the arts and community outreach through the arts is that they "can influence kids for the rest of their lives."
Hollander said he wasn't always interested in the arts. In college he played every sport he could until an injured knee landed him in the hospital. Years earlier, his parents had hired an artist named Sandor to paint Hollander's portrait.
Hollander hated having to pose for the portrait, but years later in the hospital, a man in a wheelchair recognized him as he passed by the doorway. It was Sandor who recognized Hollander and drew a pencil sketch of him right there.
"We all have heroes," Hollander said. "He was my influence. He was my hero. I went into the arts after that. After I met that artist, my frame of reference changed."
Hollander said that is why community outreach through the arts is so important, because art changes people's frame of reference.
Hollander is new to the job. He's been with The Foundation of Arts for six weeks, and one of the things he would like to do is find more ways to reach out to the community.
"We're developing more outreach programs to get to people that don't normally get downtown, rural people and low income people," he said. FOA is also working with young people at risk by teaching them transferable skills, such as jewelry making which could transfer into a career making things like eyeglasses.
Hollander said one of the unique things FOA does is to take kids who show exceptional skill and make them assistants who help teach the other kids.
"Even the little ones. Kids listen to other kids better than to adults," he said.
Hollander noted the importance of involving the community in what they do. An example would be the first scene in their Sherlock Holmes play in which Holmes, in disguise, walks by the Jonesboro Police Chief in the opening scene and says, "I'm glad you're on the case, Chief Yates."
Currently, FOA is working on a production of Titanic which begins June 23.
"We're building the Titanic onstage. It's actually going to sink. There are hydraulics under stage. It's going to be exciting," he said.
The Foundation of Arts puts on five major productions a year in addition to The Nutcracker and a Christmas play.