Trumann sales tax fails; Nix, Mills win in primary
Friday, May 25, 2012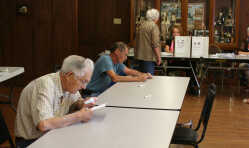 In a special Trumann city election which was part of Tuesday's Preferential Primary, Trumann residents voted against a one percent sales and use tax for the city, resoundly defeating the proposal 682 to 147.
In area Democratic Primary races, incumbent Poinsett County Judge Charles D. Nix defeated Doyle Hillis by a vote of 1,614 to 972 and incumbent Poinsett County Sheriff Larry K. Mills defeated challenger Kevin "Big Daddy" Caldwell 2,088 to 500.
Incumbent Harold Blackwood beat Tammy Gallion Higgins for the position of Justice of the Peace District 11 with a vote of 141 to 120. Incumbent J.C. Carter beat Wesley Hooper 124 to 88 for the position of Justice of the Peace District 4.
In the race for State Representative District 52, L.J. Bryant won over Todd Wilcox 1,649 to 1,380. Scott Ellington led the voting among three Democrats seeking the nomination for the First District Congressional seat now held by Republican Rick Crawford. Ellington garned 27,894 to Clark Hall's 21,928 votes and Gary Latanich's 6,609. Ellington led in Poinsett Councy with 1,345 votes, compared to 836 for Hall and 244 for Latanich.
In a Non-Partisan Primary for State Supreme Court Associate Justice Position 4 Court of Appeals, Judge Jo Hart soundly defeated Raymond Abramson with 193,040 votes to 103,374. Hart won Poinsett County with 1,915 to Abramson's 805 votes.
For Court of Appeals Associate Judge District 1 Position 2, Circuit Judge Phillip Whiteaker led voting with 17,096 to 14,595 for Jeanette Robertson and 13,361 for Richard Lusby. In Poinsett County, Robertson had 1,000 votes while Lusby got 899 and Whiteaker got 862.
In the Democratic Primary for U.S. President, candidate John Wolfe out polled President Barack Obama 1,605 votes to 792 in Poinsett County.
In the Republican Primary, presidential candidate Mitt Romney gained 241 votes in the county while Rick Santorum had 60, Ron Paul had 44 and Newt Gingrich had 29.