Trumann's first Time to Shine cleanup is a success
Friday, May 25, 2012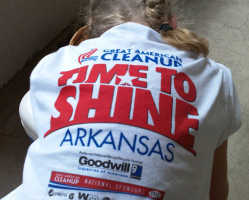 Trumann certainly was shining by the end of the day Monday, May 21.
Volunteers turned out with their trucks, trailers and time to participate in Trumann Time to Shine, part of Keep Arkansas Beautiful. Over two 40 yard containers of trash were collected in the very long day.
The event, sponsored by the Poinsett County Democrat-Tribune and City of Trumann, was deemed a success by Betty Shaw, State Commissioner, who was on hand at the end of the day. Shaw presented the group with a $50 gift card which was won by Hazel Riley and Kathy Hicks.
The city of Trumann will continue to pick up items through the entire month of June. Keep Arkansas Beautiful supplied the group with t-shirts, gloves, trash bags, hand sanitizer, banners, volunteer stickers and small tool kits.
From the very young to the young at heart, everyone did what they were able to do. Claudine Bivens, from the Trumann Senior Life Center, volunteered her time to fix hot dogs for the volunteers at the end of the day.
Hazel Riley was there bright and early to let volunteers in the Old Community House to get shirts and sign in. Mayor Sheila Walters was out sweating with the rest of her group picking up one of the areas.
Aldermen Tom Martin, Donnie England and James Baker turned out to show their support for the city by volunteering. Garey Martin worked on the organizational committee with Bridget Bean from the Poinsett County Democrat-Tribune and Mayor Walters.
Sonic Drive-In donated condiments for the hot dogs, provided by the newspaper. The list of volunteers is too long to print, but everyone's effort was greatly appreciated. The residents of Trumann are encouraged to continue to be aware of picking up trash and striving to make Trumann shine.