Washington signs with LeMoyne-Owen Magicians
Thursday, May 31, 2012
Malcolm Washington signed a scholarship with LeMoyne Owen College last Thursday in front of his family and friends in the high school gym. A scholarship was something Washington thought would never happen for him.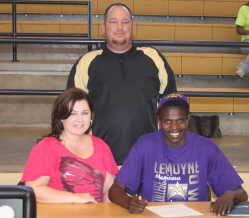 "I never thought I'd have a chance to go to college," Washington said. "I give a lot of credit to my Pops (Coach Dulaney), he's been a father figure to me." "He's mentored me and got me where I need to be both on and off the court," Washington added.
Washington capped off his senior season by earning all-conference and all-state honors. Washington averaged 20 points, 8 rebounds and 4 blocks per game.
Washington will be joined at LeMoyne-Owen by his cousin, Tony Brewster, from Valley View. "It's going to be fun playing with him (Brewster) because he's tough to play against." "He'll help me keep my head straight while we are there too," Washington said.
"I'm going to go in and work hard and do whatever they ask of me." "I hope everyone will come across the river and watch me play when the season starts." Washington added.
The Magicians are a Division II school who plays in the Southern Intercollegiate Athletic Conference (SIAC). The Magicians advanced to the national title game in basketball this past season losing to Benedict College 58-42.