St. Francis River Pecan Co. scholarship winners selected
Friday, June 1, 2012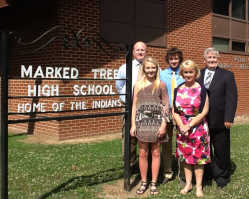 The first recipients of the Saint Francis River Pecan Company Scholarship are Marked Tree High School graduating seniors Paige Blansett and Jagger McCrary. Each will receive a scholarship from the Saint Francis River Pecan Company Endowment Fund of $8,000 over the four years of their undergraduate degree programs.
Paige is the daughter of Paul and Jennifer Blansett. She was a distinguished honor graduate maintaining a 3.81 grade point average. In addition to an outstanding academic career at Marked Tree High School, she was a student leader. Paige's accomplishments include class president all four years of her senior high career, five year letterman in cheerleading and three year letterman in softball.
Paige plans to attend Arkansas State University in Jonesboro this fall where she will major in athletic training with an emphasis in exercise science. She eventually plans become a physical therapist.
After graduation, she would like to work as a pediatric physical therapist at Le Bonheur Children's Hospital or St. Jude Children's Research Hospital. Paige is an active member of First Baptist Church in Marked Tree.
Jagger is the son of Tommy and Sherri McCrary. Jagger was the Marked Tree High School Class of 2012 Salutatorian and maintained a 3.96 grade point average.
His accomplishments during his high school career include election to the National Honor Society, serving as MTHS Student Council treasurer and serving in the MTHS Community Service Club.
In athletics, Jagger was a four year baseball letterman and a three year football letterman.
Jagger plans to attend Lyon College in Batesville this fall where he will pursue a major in business and with a minor in agriculture. Jagger is an active member of the First Baptist Church in Marked Tree.
The St. Francis River Pecan Company is headquartered in Marked Tree on the banks of the St. Francis River. The 400 acres of pecan trees and the newly-completed state of the art processing plant produce pecan nuts that are enjoyed by both domestic and international customers.
As part of its commitment to the Marked Tree community, the St. Francis River Pecan Company has established an endowment fund to help with college scholarships and other charitable projects in the community. The company plans to continue to award college scholarships in the coming years.
Mrs. Joanie B. Taylor, one of the company's founders and owners, grew up in the Marked Tree community and is a class of 1981 graduate of Marked Tree High School. Her father, Mr. Bill Taylor, is a longtime resident and community member of Marked Tree.
Lanny B. Simmons is the manager of the St. Francis River Pecan Company.