Trumann parks director speaks to Lions Club
Friday, June 1, 2012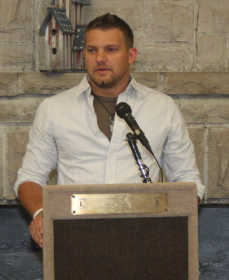 Brandon Shrader, director of Trumann Parks and Recreation (TPR), was the guest speaker last week at the Trumann Lions Club weekly meeting.
Shrader said most people know him from the sports side of his job, but he noted there are other things to gain from the city's parks and recreation programs.
Physical health is one benefit the city's parks provide, he said, along with a location for social functions and outdoor enjoyment for those who just like to be outside.
Youth development plays a major part in the recreation side of his job, Shrader added.
Economic development is also a key factor of the TPR. Shrader said tournaments held at the complex bring revenue to the city with families shopping at local stores and eating in Trumann while in the city for the games.
"A side most don't think about is keeping our kids active and out of trouble," Shrader said. "If we can keep a kid involved who might otherwise have to go to a juvenile detention center, the program is worth having.
"We want to establish our park system and want our programs to succeed. We are looking for other areas in the city where we can open new parks. We are looking into having bicycle and walking routes. We want the community to be involved. With a big group working we can get more done."
Shrader said TPR is looking to better its youth and adult programs, trying to find quality programs instead of just a quantity of things to offer.
"We are looking to do four or five biking and jogging trails of different distances in hopes we can bring in some out-of-town people to use these as well," he said. "Frisbee golf is in the works with possible courses at the city park and the sports complex. We are doing some maintenance and painting at the Fleming Fields, making it feel more like a baseball atmosphere."
Shrader said two new leagues are coming for the summer, kick ball for kids and Chicago 16-inch softball for adults.