Wreck in Lepanto closes bridge
Friday, June 1, 2012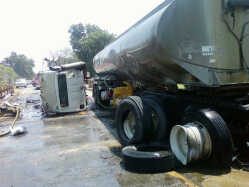 A wreck Tuesday in Lepanto Tuesday meant the temporary closure of a bridge on Highway 140 at the Little River.
According to Lepanto Police Captain David Layman, the wreck occurred at 12:15 p.m. Tuesday when a truck belonging to Stuckey Farms of Clarksdale had a blowout and struck the bridge.
Lepanto Police responded along with the Lepanto Fire Department, Arkansas State Police and the Office of Emergency Management. The bridge was temporarily closed while a hazardous materials crew cleared the liquid fertilizer and diesel that spilled as a result of the crash.
The driver of the truck was Chester Odom, a Stuckey employee. Odom was not injured.