Memorial Day celebrated
Friday, June 1, 2012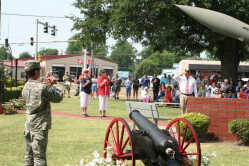 Civilians and veterans young and old gathered Monday at Trumann's American Legion Memorial Park to honor the fallen for Memorial Day.
The service was led by Ron Taylor, 5th District Commander of American Legion Post 42. Boy Scout Jeremy Arnold led the crowd in the Pledge of Allegiance to begin the service. This was followed by a rendition of the National Anthem by three young ladies -- Kelsey, Kylie and Kaitlyn -- who also sang Amazing Grace to close the program.
Speakers included Trumann Police Chief Chad Henson and JROTC Instructor Col. Jeff Vestal.
"For those fallen, we can never thank you enough," Chief Henson said. "But we will say thank you. Not just today but every day. Though we feel the loss of U.S. Army Sergeant Erich Smallwood, we are thankful."
Sgt. Smallwood, a 23-year-old Trumann native serving with the 875th Engineer Battalion in Iraq, lost his life in 2007 after an improvised explosive device exploded near his vehicle.
Col. Vestal related the history of Memorial Day, which began around the time of the American Civil War and was known as Decoration Day. The name "Memorial Day" gradually came into use after 1882 and was declared as the official name for the day in 1967. In 1971, the date for Memorial Day was moved from May 30 to the last Monday in May.
Col. Vestal also listed tallies of the numbers of U.S. soldiers who died in each of the wars in which the United States has fought.
"1,350,000 men and women have given their lives for the U.S.," he said.
The list of names of the fallen on the memorial was read aloud, the U.S. flag was raised and lowered to half-staff in their honor, a wreath was placed on the monument, and Taps was played.
Ron Taylor said he loves the fact the Memorial Park is so close to Trumann Intermediate Center because he likes seeing students there and is happy to explain to them the significance of the POW/MIA flag, flown as a symbol of concern for military personnel taken as prisoners of war or listed as missing in action.
Taylor said there are still 83,000 soldiers missing in action today.
"We continue to work to bring their remains home," he said. He noted that an estimated 40 percent of MIAs were lost at sea.
"We fly this flag in their honor and have an empty seat at American Legion functions in their honor," he said.
The program ended with a rendition of Amazing Grace.