Dementia workshop held in Marked Tree
Friday, June 8, 2012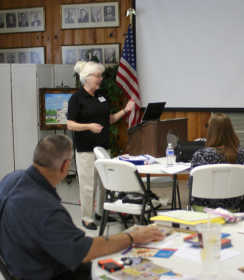 A small group was present Saturday morning in Marked Tree for a dementia workshop put on by the Center on Aging Northeast. The workshop was led by Deborah Levins, Education Outreach Specialist, who said the program was free and was aimed at families dealing with family members who have dementia.
"I was a critical care nurse, and every family handles care differently," Levins said. "Caregivers play a huge role in the quality of our lives, particularly at the end of our lives."
Much of what Levins discussed with the group had to do with how to take care of a family member with dementia and better understanding dementia.
As far as behavior issues, Levins said, "You have to be a detective when you're a caregiver to find out what's triggering a behavior."
She told a story of a man with dementia who thought his wife was sleeping with a stranger. It turned out that when his wife talked privately with the man's son, whom he no longer recognized, about how he was progressing, they were going into the bedroom and shutting the door. They thought doing this would be less likely to upset him because he wouldn't overhear, but his dementia caused him to misinterpret their actions until they figured out what was going on. After discovering the problem, the man's wife and son remained where he could see them and things returned to normal.
Another important thing Levins talked about was caregiver stress and burnout.
"Caregiving is very rewarding in many ways and sad in other ways," she said. "Stress starts in the body long before we feel it in the mind. If you can identify what you're dealing with and are able to label it, then it's easier to fight."
Levins said she had not realized how stressed she had become in taking care of a family member until she started teaching caregiver classes like the dementia workshop.
"I started recognizing what I was going through. That's why I recommend classes and support groups," Levins said. She also noted the importance of recognizing caregiver stress, as well as the importance of being able to step away and take time for yourself, in assuring the highest quality of care for loved ones.
"We're afraid if we don't take care of them, they'll end up in a nursing home. But the truth is, if we don't take care of ourselves, they'll still end up in a nursing home."
Other topics discussed included communication, end of life care, nutrition, activities, and personal care. Levins also brought showed some equipment to make the home safer for people with dementia, such as special eating utensils.
Center on Aging Northeast is part of the Arkansas Aging Initiative which seeks to increase access and quality of geriatric healthcare in Arkansas. Schmieding Home Caregiver Training provides the program in Jonesboro while The Center of Aging Northeast carries the dementia workshop out to 13 counties in Northeast Arkansas.