Simpson retires after 53 years of teaching
Friday, June 8, 2012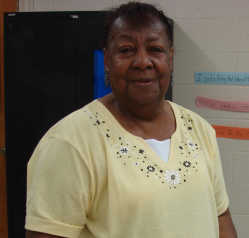 Mrs. Ruth Simpson retired recently after having taught in the Marked Tree School District for 46 years and seven years in Tyronza for a total of 53 years.
A native of White Hall, she graduated from Philander Smith College in Little Rock, where she earned a BSE degree with both high school and elementary certification. Also, she took some graduate courses at Henderson State Teachers College in Arkadelphia and at the University of Central Arkansas in Conway.
Mrs. Simpson began her teaching career in 1955 at George Washington Carver in Marked Tree, but she later transferred to Marked Tree Elementary. Her first teaching assignment was sixth grade. In addition, she has taught second and third grades, fifth grade math, and seventh grade math.
Mrs. Simpson is married to Rev. Grover Simpson, a retired pastor from St. John's Missionary Baptist Church in Marked Tree and Union Grove Baptist Church in Gilmore. Together they have a son and a daughter --- both of whom graduated from Marked Tree High School. Her son was in the military and, unfortunately, died from an automobile accident in 1989. Her daughter lives in Cleveland, Ohio, where she works for General Motors. She has two grandchildren and two great-grandchildren. In addition, she has one step-son, and two step-daughters.
Mrs. Simpson attends St. John's Missionary Baptist Church in Marked Tree, where she is a member. She is also a member of St. Matthew Number 351 Order of the Eastern Star.
A reception was held in honor of Mrs. Simpson on Tuesday, May 22, where she was presented with a jar of money by the Marked Tree Elementary Staff. At a luncheon on Thursday, May 24, she was presented with a certificate by Annesa Thompson, superintendent of schools. She was also recognized by the members of the Board of Education at their meeting in appreciation of her years of service to the Marked Tree
School District. Mrs. Simpson will be greatly missed.