Trumann businessman suffers fatal heart attack
Friday, June 8, 2012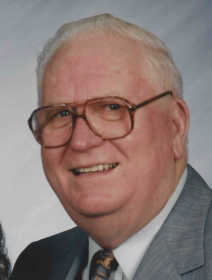 Guy Beaird of Trumann, owner of Guy's Discount Center, suffered a fatal heart attack Wednesday, May 30, 2012, at his home.
Beaird was born Jan. 25, 1926, in Lepanto, the firstborn son of John and Marvin Beaird, and spent his entire life in Poinsett County. He received his early education in Lepanto and Harrisburg, moving to Trumann in his junior year to be nearer his part-time job and his new girlfriend, Nida Bossert.
Guy and Nida married in October of 1945 as World War II called. He served in the Army Air Force in the European Theater, primarily in France. Following his discharge he returned to Trumann, working in radio repair and then the new marvel of television.
Guy and Nida opened Guy's Furniture and Appliance Store on Main Street in Trumann and soon added a second store in Jonesboro. In 1957 they combined the two as Guy's Discount Center on Highway 63, where they remained until their retirement in 2010.
Guy is survived by Nida, his loving wife of 66 years; his daughter, Patricia Hendrix (Dennis Edwin) of Little Rock; two granddaughters, Kelli Trickey (Bart) of Conway and Heather Starnes (Ken) of Little Rock; five great-grandsons and one great-granddaughter, and three brothers, Newt Beaird of Trumann and Bill and John Robert Beaird of Madera, Calif.
He was preceded in death by his parents, John and Marvin Beaird and three sisters, infant Mildred, Betty Gage of Sandpoint, Idaho, and Bonnie Aleman of Madera, Calif.
Funeral services were Saturday afternoon at 1:30 p.m. at the First United Methodist Church in Trumann with Rev. Jeff Weaver and Rev. Kenny Guy McMahan officiating. Burial followed in Jonesboro Memorial Park Cemetery in Jonesboro, Ark., with Thompson Funeral Home of Trumann in charge of arrangements.
Pallbearers were Bart Trickey, Ryan Trickey, Jake Trickey, Ken Starnes, Larry Neugebauer, Gaylon Rouse, Frank Ray and Charlie Hicks. Honorary pallbearers were members of the Trumann Lions Club.
Visitation was Friday from 5 to 7 p.m. at Thompson Funeral Home in Trumann.
Memorials may be made to the Trumann Lions Club Sight Fund or Trumann First United Methodist Church.
An online guestbook can be signed at www.thompsonfuneralhome.net.