Lovell guest of Lions Club
Friday, June 8, 2012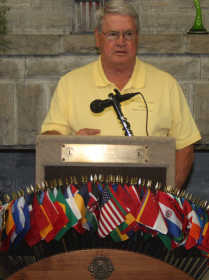 Trumann Lions Club members got a little lesson in state government when longtime State Representative Buddy Lovell spoke to the group Thursday, May 31. Lovell is term limited and is winding down his final term in the House.
Lovell asked three questions of those in attendance. First he asked if anyone knew how many districts there are in Arkansas. There are 100 districts, he said, with each district over one percent of the county's population.
Secondly, he asked if anyone knew how many senators there are in the state? There are 35 that serve the state, he added.
Third, he asked if anyone knew how many elected officials there are in the state government. There are 142 when you add the 100 representatives, 35 senators and the Governor, Lt. Governor, Attorney General, Secretary of State, Auditor, Land Commission and Treasurer, he noted.
Lovell talked about the term limits of the representatives and senators, noting representatives can serve three two-year terms and the senators two four-year terms.
"When they reach term limits, these are term limits for life," he said. "There is a proposal coming up that would extend the term limits to 14 years if passed."
Federal healthcare was an issue Lovell said is a hot topic.
"I believe there needs to be a health exchange set up in the state so we don't have someone else dictating how we run our healthcare," he said.
The casino issue was the last topic discussed by Lovell.
"We don't want it on the ballot, and if it gets on the ballot, please vote against it," he said. "If it passes, there will no legislative oversight on it. The state will probably lose Southland and Oaklawn due to closing costing the state millions of dollars in gaming taxes."
Lovell said he has enjoyed serving the last six years. He has entertained the thought of lobbying, but nothing political is in the near future after he leaves office in January.
"We are going to do some traveling," Lovell said. "The only office I'll run for is to be Lynn's husband, and I only need one vote for that job," Lovell added with a smile.