Crouch Family named Farm Family of the Year
Friday, June 8, 2012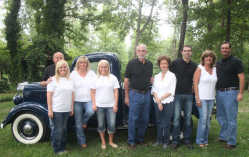 Gene Crouch of Harrisburg has spent 33 years of his life farming. This year, he and his family have been selected as Poinsett County's Farm Family of the Year.
"He's a person who has an unusual eye and a talent for things," County Judge Charles Nix said. "I'm jealous. He's the type of guy who could take a screwdriver and a hammer and fix anything."
From his first year of farming 1,170 acres, Crouch and Crouch Farms has grown to include four farms and a total of 3,290 acres, which Gene farms with his son Gregg.
"It's a blessing to have growers who call and value your opinion," County Extension Agent Craig Allen said of Crouches.
Crouch and Crouch Farms' main crop is rice, which makes up 1,567 of their acreage. They also grow 1,735 acres of soybeans and 712 acres of winter wheat.
Gene Crouch said it was an honor to be chosen for Poinsett County's Farm Family this year. "It's unexpected and unvbelievable," he said. "I've had a lot of leadership from up above. In everything I do, I ask for guidance. I've got good kids and grandkids, put God first, and go to church regularly. I've been so fortunate, that's the least I could do."
Gregg Crouch said that he and his father work quite well together. "Most fathers and sons have a hard time, but I've learned there can't be two bosses," Gregg said.
"Whatever he says, I take into consideration," Gene said. "I'll listen to anybody, any suggestion."
The Crouches also try to do as much as they can themselves. "We try to do all our own maintenance," Gregg said. "Any day you can pull up to the shop, and we're working on something."
"We fix every flat, do our own surveying and spraying," Gene said.
Conservation is also important to the Crouches. The use their own spray truck to control chemical drift and to know what they are spraying and when. They use soil sampling and soil analysis from the University of Arkansas Extension Service to properly fertilize and reduce excess application. And they have built resevoirs to recover and reuse tail water, one of which is 90 acre resevoir on the Harrisburg farm they are building this year with the help of the Natural Resources Conservation Service, and they store all their own grain. "When we started farming, we only had one half of the grain bins needed," Gene said. "Now we are able to store all our rice and beans. This helps in marketing and delivery, along with a speedy harvest."
The Crouch family is honored to represent Poinsett County as Farm Family of 2012. "The reward of being able to help many families by supplying the world with the safest food supply in the world is what makes us want to continue to farm," Gene said.
History of Crouch farming
From agricultural flying to farming, Gene Crouch's operation has become a business that involves the whole family.
Gene's father, Carlos Crouch, grew up working on his great-uncle's tobacco farm in Paducah, Kentucky. In 1952, Gene moved to Arkansas with his father, his mother--Naomi Scoggin Crouch--and his two brothers. Carlos bought an Exxon service station and garage where his sons worked part-time after school and during the summer.
After graduating high school, Gene married Mary Jo Owens, who also came from a farming family. Her parents, Stanton and Bessie Owens, owned and operated a cotton farm in eastern Poinsett County. Gene and Mary Jo have two children, Rhonda and Gregg.
Around 1961, Gene became co-owner and manager of a successful agricultural flying service, the first in the area to operate a ground applicator. "We served a lot of farmers in this area," Gene said. They sold the flying service in 1979.
After that, Gene and his partner leased a 270 acre farm and also farmed a 900 acre farm in Lafe, Arkansas. His partner sold the 900 acre farm. After that, Gene and Mary Jo began traveling and enjoying spending time with family on fishing and camping trips.
In 1981 "H.P. Maddox came to me and asked if I would like to rent his 750 acre farm off Highway 214," Gene said. "Gregg was in college at this time. After finishing his degree we rented another 1360 acres becoming partners in the farming industry. When this 1360 acres came up for sale located on Reynolds Road south of Harrisburg we decided to purchase it. This is where our headquarters is now located."
They now own farms in Weiner, Greenfield, and on Maddox Lane and have rented another farm for the last three years. At one point, Gene and a friend purchased a farm in Jackson County and another in White County but sold them after a few years because the commute was too much to also be farming in the Harrisburg area. They are also part owners of a hay and hunting ranch in Randolph County.
"We have found over the years that purchasing farm land is one of the best investments we can make," Gene said.
Farming a way of life
Many members of the Crouch family help out with the farm operations in some way.
"Farming is a great occupation and the way of life for our family," Gene said. "Gregg and I meet each morning at my house to make plans for the day. Our farming operation is truly a family effort and partnership. Mary Jo, Donna, and Rhonda all have major roles in our decisions and business practices."
Gene and Mary Jo Crouch have been married for 52 years. Together they have two children, Rhonda and Gregg.
Mary Jo started bookkeeping for Gene when he started in the agricultural flying business in the 1960s. She still has a major role in the business, managing the farm's daily accounts and handling bills, payroll and taxes for the farm. "My wife spends countless hours bookkeeping," Gene said. Mary Jo added that they still write everything out the old-fashioned way instead of using computers because it's faster.
Rhonda also works with bookkeeping, making day-to-day decisions ordering chemicals, fertilizer, seed, and fuel. She also does billing. She lives in Collierville, Tennessee with her husband James Horner and has a son, Drake Meyers.
Gregg works on the farms with Gene. "We have pretty close ties," Gene said. "Gregg lives next door. He's there every day." Gregg is married to Donna Weisen of Albuquerque, New Mexico, who had never lived in a farming community but now takes a major role in decisions and business practices. They have two children, Emily and Carly. Emily attends Arkansas State University, and Carly is a senior at Harrisburg High School.
The Crouches have always been active members of First Baptist Church of Harrisburg. Mary Jo and Gene serve on several church committees, and Gene serves as an active deacon, chairman of the house, and grounds personnel. He is also on the board of trustees. Gene serves on the Williams Baptist Scholarship fund and is a retired volunteer fireman of 22 years.
"We have been very blessed as a family," Gene said. "God has been very good to us, and we give him all the credit for our accomplishments. Our family ties are very strong and we are thankful we get to spend so much time together."