Trumann council hears update from police
Friday, June 15, 2012
Trumann Police Chief Chad Henson addressed the city council Tuesday night regarding several updates the police department could be undergoing in the future.
Henson said all police records are currently in physical files and the time consumed in going through files has caused the department to miss a deadline for a grant application. He said the police department plans to use drug money seized during investigations to pay to set up a computer system for all police records. The computer system will also include evidence tracking, case management and computer-aided dispatch.
"Right now they have to do it in pen," Chief Henson said. "That's so '90s. We have to put everything on the computer."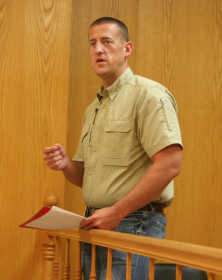 The computer system the department will use is called Relativity Public Safety.
"RPS will run the entire police department, and it will be paid for by our drug dealers," he said. Henson added the computer program will help the department aggressively go after grants in the future.
Henson also mentioned a new organization out of Jonesboro called Blue Streak K9, which trains police dogs for $8,000 to $10,000. Henson added that organization has a rescue dog trained to search out drugs which they are willing to donate to a police department. Trumann is on the list to potentially receive the dog.
In continuing to expand on his open door policy, Henson said, he is starting a website at www.trumannpd.org and has an e-mail address set up where pecople can voice their concerns at chief@trumannpd.org. He also will start writing a column in the Democrat Tribune about what the TPD is doing and addressing citizens' concerns.
In other business, the council:
* granted the mayor permission to spend up to $23,000 in grant money to purchase a Bobcat with attachments which will be used exclusively for recycling.
* heard an update on the Craighead Electric easement. Mayor Sheila Walters said they had started at Main and Willow, were taking down trees and limbs to keep electrical lines clear, and should be done in six months.
* approved the Disaster Recovery Plan.
* heard an update on the condemnation of houses on Smith and Edgerton. Voted to table the matter until next month to amend a resolution.
* approved the mayor taking bids on the Trumann Industrial Park Water Tower.
* approved giving the mayor permission to sell the 1997 GMC Bucket Truck for a minimum of $17,000. Mayor Walters said the street crew prefers using the smaller truck and that she will either sell it next month or get it into the Jonesboro auction.
* heard from Alderman Kevin Baxter a request for an update on a house at 809 Hurd Street which had had a fire. Code Enforcement Officer Gary Anderson said the only issue is that the front porch sags a little and is unsightly. He noted the owner does plan to fix it up and keeps the yard mowed but is financially unable to tear the house down at this time.
Baxter said he has been bringing up the issue for months trying to get something done and claims other members of the council are showing favoritism. The council agreed to send a letter to the property owner asking her to appear before the council next month regarding condemnation of the property.
After the council meeting, Baxter told members of the press he will not seek re-election, saying he is tired of fighting against favoritism.
"If we're going to enforce the rules on one, they should be enforced on all," Baxter said. "Every time I bring it up, I'm told it will be on next month's agenda. I'm tired of the good old boy system. The good old boy system rules in this town."