Friday Night at the Show is a success
Friday, June 15, 2012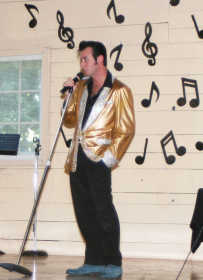 A lot of money was raised last week to benefit the Sims/Talbot Adult Training and Education Center as over 300 people from in town and out of state packed the Community House for Friday Night at the Show in Trumann.
Jane Hurd, who was on the planning committee for the event, told the Trumann Rotary Club the day before the event that Friday Night at the Show was held in part to celebrate the Trumann Class of '62 reunion and to celebrate the generosity of Jerry Sims and his sister Patti Sims Swinford, who donated $250,000 toward the building of an adult education center in Trumann.
One hundred percent of the proceeds from the event are going toward purchasing equipment and supplies for the education center. "Because the event was totally underwritten by generous businesses, all proceeds will go to the center," Hurd said.
Friday Night at the Show kicked off with food provided by Loretta's catering and a time to socialize before the entertainment began. Hurd said it was important to have a time at the beginning of the event for people to mingle because one of the goals of event was to bring the community together. Then, local band Good Friends entertained the crowd with some oldies, Elvis impersonator Brian Lee Howell sang some favorites from the 50s and 60s era of Elvis' career, and Trumann native Judy Byrum Webb performed country and western songs. There was also a commemorative video playing throughout the event featuring Trumann photos from the 1940s, 50s, and 60s which was put together by Keith Dobbins
Mayor Sheila Walters also presented Jerry Sims and Patti Sims Swinford with keys to the city in recognition of their generosity.
Hurd spoke very highly of the people of Trumann. "It was wonderful growing up in Trumann," she said, "because we got values by osmosis. You saw how people conducted themselves and their businesses. After I graduated high school, I went to the University of Arkansas and then straight out to California for 25 years. I was successful in business because of luck and these values. I want to say thank you to Trumann for giving that to me."
The planning committee for Friday Night at the Show included Matt Moon (Honorary Chairman), Sharon and Harold Box, Effie and Mike Dungan, Ronnie Dye, Jane Hurd, Barbara Lewallen, Mary Lee and Larry Loggins, Paul McAnally, Debby Norman, Marsha Phillips, Jackie Ross, JoAnn Taverna and Neal Vickers.