Tractor club rides through Lepanto
Friday, June 15, 2012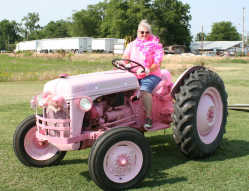 The Foothills Tractor and Engine Club from Pocahontas descended on Lepanto last weekend for their June tractor ride.
They were joined by members of the Bono Antique Tractor Club for a ride that began at the Painted House in Lepanto. From there they rode to Rivervale and Bondsville before heading over to Dyess to see Johnny Cash's boyhood home before looping back to Lepanto for a wonderful bean dinner and tractor show.
Burie Tucker of the Foothills Tractor and Engine Club said that the club originally got together in 2006 but was not formally organized until 2008. "We had a guy who loved antique tractors," Tucker said. "We found another and another and got a group together."
When asked why he enjoyed the tractor club, Tucker laughed. "I think it's a sickness. I'm a tractor-holic," he said.
The club is mostly made up of people from Randolph County, but there are also members from Missouri, Illinois and Kansas. During warm weather, the club tries to organize a ride every month. Tucker and his wife are from Lepanto originally. He told other club members he wanted June for the Lepanto ride.
One of the stand-out tractors of the day belonged to Jean Pearcy. It was painted pink and dedicated to breast cancer awareness. Pearcy even donned a pink boa for the ride.
Between 25 and 30 tractors participated in the ride, and they were quite a sight as they rolled down Greenwood Avenue in Lepanto.
Dyess Mayor Larry Sims met with the club and joined them on the way back to Lepanto for the bean dinner. Several people showed up to the bean dinner for white and brown beans, cornbread, and a wide array of desserts in the barn next to the Painted House.