Marked Tree wins on walk-off hit
Thursday, June 21, 2012
Marked Tree SportsCenter hosted the Hornets of Harrisburg in American Legion baseball this past Thursday night. Harrisburg led the entire game only to see Marked Tree rally in the bottom of the seventh for the win.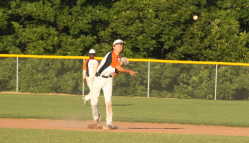 The Hornets jumped out to a 3-0 lead in the top of the third. Brett Horsley doubled with one out and scored on a RBI-single from Ayson Lamb. Jay Ryan Woods scored Lamb with a RBI-single before scoring himself on a RBI-single from JT Schwarz.
SportsCenter cut the lead to one in the bottom of the fifth. Daniel Rucker opened the inning with a single before being forced out at second on a ground ball from Jacob Sanders. Sanders stole second before Bailey Gilbert walked to put runners on first and second. Brody McCrary walked to load the bases. Sanders scored when Blake Daniels reached on an error and Gilbert scored on a fielder's choice grounder from Dylan Hunt. The score was 3-2 Harrisburg after five innings.
Hunt had a two-out single in the bottom of the seventh to start the winning rally. Jaden Bell struck out but reached first when the catcher dropped the ball then made a bad throw to first. This allowed Hunt to go all the way to third. Hunt scored on a wild pitch to tie the game before Octavious Dean walked to put runners on first and second. Hunter Pitts singled as Bell came around and beat the throw home to score the winning run.
Daniels got the win for SportsCenter going all seven innings. He allowed three runs on five hits. He walked none and struck out eight.
Woods took the loss going the full game as well. He allowed four runs on six hits. Woods struck out seven and walked seven.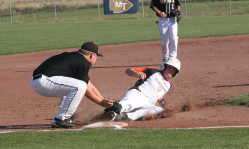 Rucker and Pitts both had two hits for Marked Tree. Sanders, Gilbert, Hunt and Bell all scored a run as Pitts had an RBI.
Horsley had two hits and a run scored to lead Harrisburg. Woods and Lamb both scored a run as Lamb, Woods and Schwarz each had an RBI.