Chief Henson talks values to Lions Club
Friday, June 22, 2012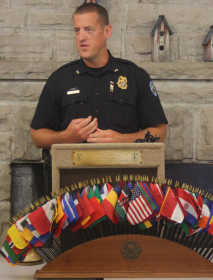 Trumann Police Chief Chad Henson didn't know what he wanted to be growing up in Marmaduke.
"I had thoughts of the medical field, but I did know I wanted to be in a job where I could help others," he said in a talk Wednesday, June 13, to the Trumann Lions Club.
"I believe the Lions Club and the police department both have that in common," he added.
Henson worked for the Jonesboro Police Department before recently taking the position as Trumann chief, and noted the Jonesboro Lions Club was very good to him throughout his career.
"The values of both organizations are similar," he said.
Henson noted the phrase on the Lions Club website, "Whenever a Lions Club gets together, problems get smaller and communities get better" is a great saying.
"It solidifies what you do and solidifies what the police department wants to do for the community," he added.
"The Lions Club values are to organize, coordinate, create, promote, take, unite, provide and encourage," he continued. " Those are some of the same values the police department uses as well."
Henson said he loves to train and instruct others in what to do. Quoting the phrase, "Learn one, do one, teach one," he said, "If we use the Lions Club values with the values of the police department, we can organize our efforts to become a better community together, we can coordinate when we perform civic functions, we can create this working relationship, we can promote our organizations to the community, unite all those around us, provide leadership and resources and encourage them as we grow. If we take all the values from each organization, that is learning. We can teach the new police officers like the Lions Club will teach its new members -- and both will, in time, teach the values to new members."
Henson said he wants everyone to know there is an open door policy at the police department.
"Please feel free to contact us at any time," he said.
He noted the department has a new website, www.trumannpd.org, and encourages everyone to visit the site.
He closed by saying, "The two main things when we sign the code of ethics are to protect and to serve. The last one, to serve, is the most important because we are here to serve."