Howell contributes to book on special needs eye patients
Friday, June 22, 2012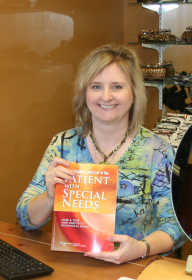 Dr. Angela Howell of Eyecare of Trumann contributed to a book published in May that provides a detailed review of eye and vision care needs for patients with special needs.
The book, edited by Marc Taub, Mary Bartuccio and Dominick Maino, is called "Visual Diagnosis and Care of the Patient with Special Needs."
Dr. Howell said while she was doing her residency in pediatrics at Southern College of Optometry in Memphis in 2010-2011, she did research on how medications for Attention Deficit Hyperactivity Disorder (ADHD) affect the eyes of children taking the drugs.
"It started with a student I worked with who was having problems focusing and reading up close," Dr. Howell said. While taking the medication, the student could sit and attempt to read, she said, but the medication had certain side effects for the student's vision that affected how the student performed in school.
After that case, Dr. Howell started looking at other children on medication for ADHD and how that affected their vision.
"Some had the same problems, and some had none at all," she said.
Dr. Howell said one of the side effects she saw was "an accomodative system in a 10-year-old that might be the same as in a 45-year-old adult."
Accommodation is the process of tensing and relaxing the eyes' ciliary muscles. When a person looks at an object that is far away, the ciliary muscles relax. These muscles tense up when a person looks at an object that is close.
Dr. Howell contributed to the chapter on ADHD, providing tables that list various medications and their possible side effects for specific age groups.
"The book was developed to fill a gap in optometric education because there was not a book to deal with special needs patients," she said. "This is a neat, all-in-one, go-to reference. It was a fun project to work on. Several of the professors were encouraging."
Dr. Howell said doing a book on visual care for special needs patients became an item of interest lately because the special needs population has increased.
"Today, one out of 110 kids has autism," she said. "When I was in school, we didn't have numbers that high. Either it's more prevalent or we're more aware of it. Personally, I think it's more prevalent."
Dr. Howell said some possibilities for why the special needs population is higher today than it has been in the past include better medical techniques that lower the infant mortality rate. "There's a correlation to premature births and these problems, but we're better at dealing with these problems than we have been in the past," she said. "I think children with special needs have more opportunity to reach their potential now."
Dr. Howell said one project she is currently working on is understanding the role of vision and learning why some kids learn to read and some don't.
"We're looking at students whose vision is good and their attention is good, but they're falling behind in reading," she said."We have a battery of tests to find weaknesses and get them up to speed."